Bought for the Billionaire's Revenge by Clare Connelly is a debut story for the author with the Harlequin Presents line, and in classic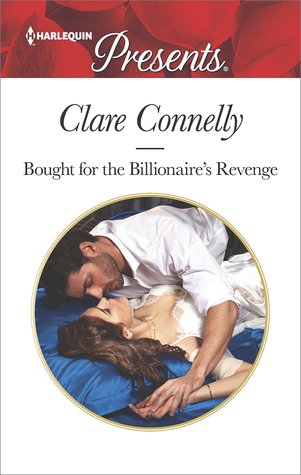 HP fashion is a passionate second chance romance with lust, revenge, money and power leading to a well deserved happy ever after.
The daughter of wealthy socialite parents, Marnie Kenington's first love Nikos Kyriasiz is four years older than her and as far as her family is concerned, totally unsuited as a prospective partner. When Marnie's sister dies of leukemia, her grief stricken parents can't chance losing another daughter and give Marnie an ultimatum – them or Nikos. Heartbroken, Marnie breaks things off with Nikos.
Six years later, Nikos has the chance to enact his revenge for being so easily cast off by Marnie. He's become a very wealthy man and upon hearing how much debt her father has accumulated he arranges a meeting with Marnie and a deal – marry him, and he'll take care of those debts. Once again, Marnie is in a position where she feels that she has no choice, and agrees. Nikos plans to keep his heart intact even as he seduces Marnie into bed, and Marnie knows she'd be a fool to let her feelings for Nikos come back to the surface. Can these two find a way to forgive each other for past hurts and give themselves a second chance at love?
Congratulations to the author for her debut novel! This story is an entertaining read, with well rounded characters and smooth pacing and plot. The revenge theme is a classic one, and as expected Nikos soon finds himself falling for the woman he'd planned to keep at arm's length (except in the bedroom). Their love scenes are sensual and intense, and show that even though their minds may be wary of building another connection, their hearts have other ideas.
The one drawback to the story for me is the ages of the characters. At the start, Marnie is 17 (so presumably just finishing high school, though the story doesn't say) and Nikos is 21. It's not unexpected that a 17 year old would choose her parents and the life she's always known to one with an older boyfriend. Thus Nikos's plot for revenge because Marnie broke his heart seems a bit of an overkill.
When Marnie and Nikos meet six years later, Nikos has managed to amass a great fortune in a very short amount of time considering his poorer circumstances when they met. Marnie is now 23 and he is 27 – and he definitely acts more like a man in his thirties than his twenties. Either having the characters older to start with (say Marnie at least 20) or having a greater span of time before they meet again would have made the story more credible.
Despite the age issues that hampered things for me a bit, the story idea and the romance are well done and I definitely plan to read more from this author in the future. If you like sensual second chance romances with a revenge theme, you will enjoy this story.

Book Info:

Publication: July 18, 2017 | Harlequin Presents |
Sold to the ruthless tycoon!
Innocent socialite Marnie Kenington was devastated when her parents forced her to spurn Nikos Kyriazis. She's never forgotten him, nor his raw sensuality. So years later, when Nikos insists on a meeting, Marnie's heart leaps…until Nikos strikes a cold, hard deal. Her family is on the verge of bankruptcy and he will rescue them–if she becomes his wife!
Marnie's rejection drove self-made billionaire Nikos to unimaginable success. Now, he'll take his revenge. Marnie's poise is legendary, but he knows in the bedroom he can take her apart, piece by sensual piece…