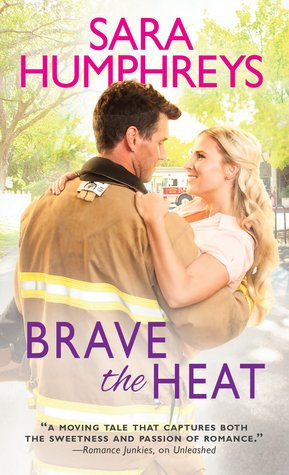 Brave the Heat (The McGuire Brothers #1) by Sara Humphreys: I really love a good second chance love story and that is just what you get in the amazing new series by Sara Humphreys. This is Gavin and Jordan's story.
Gavin has loved Jordan since they were kids and than one day she was gone, no word on where she went, and she never came back, never made contact. He ran away to the military to try to shake her memory, but nothing worked. To his surprise she is back in town, with her 2 little girls, and to everything he knows she is still married. Better for him to keep his distance. Until he finds out that Jordan is no longer with her husband and is back in town to stay.
Jordan ran away from home all those years ago to escape an abusive father, not wanting Gavin to know what was really happening, and then was lied to by her "friend" telling her that he had hooked up with someone else and never gave her another thought. Now she is back in town, her father dying, and looking to create a safe, stable life for her girls.
As secrets come to light, Gavin and Jordan decide to give it another go, a "do-over" you can say. But a fire bug is in town, burning down buildings and causing problems for Fire Chief Gavin and his department of volunteers. When tragedy strikes Gavin again, bringing back memories of the past, it will take all of Jordan's love, all of her strength to show Gavin that she is here to stay, that she is not going to run away ever again.
What I loved about Gavin and Jordan is that after all the time had pasted, they still loved each other so deeply. They were like the other half of each other, and the girls where so sweet and innocent, worming their way into Gavin's heart and staying there. There are a few sad moments in the story, but besides being a second chance at love, this story is also about being the soft place to land when things get tough, about Gavin and Jordan having each others backs, supporting and loving, caring and protecting each other no matter what. I love the interaction with Gavin and his brothers, and Jordan's girls where funny and sweet, they added a touch of humor and light to this story.
I look forward to the next installment in this wonderful new series and recommend this as the perfect end of summer read.
Book Info:

 Published September 1st 2015 | Sourcebooks Casablanca | The McGuire Brothers #1
The only fire he can't put out…
Jordan McKenna is back in town, and Fire Chief Gavin Maguire's feelings when he sees her after all these years are as raw as the day she left. Then he was just a kid wearing his heart on his sleeve. Now he spends every day trying to atone for the tragedy he couldn't prevent.
Is the torch he carries for her…
Jordan's life has not exactly worked out the way she expected. A divorced mother of two with a failed acting career, Jordan's biggest concern about coming back to Old Brookfield was seeing her first love. But when a series of suspicious fires breaks out, Jordan and Gavin realize that dealing with the sparks between them may be the least dangerous of their problems.