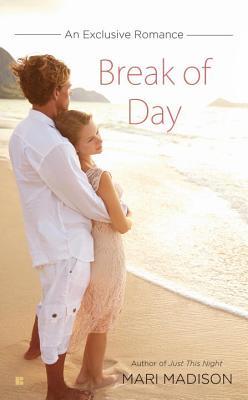 Break of Day by Mari Madison: Piper is hard-working and ambitious. She's looking forward to getting a promotion and finally having that more stable future she's been working towards since her difficult childhood. When she's not working overtime at the news station, she's working at a group home and trying to make a difference in the lives of troubled kids.
Asher's future was mapped out for him as a child. He's grown up under the shadow of his famous parents – his mother as the owner of News 9 and his father was the best weatherman in San Diego. As News 9's current weatherman, he's taken full advantage of the perks. He presents an image that everyone comes to expect – a smooth, charming, player who loves surfing, the ladies, and living the easy life.
Piper is thrilled that her best friend is getting married and she's happy to be the maid of honor. Except that the wedding is taking place on the beach. Piper is severely afraid of the ocean and hearing the waves crashing behind her during the ceremony is difficult enough, but then a rogue wave actually splashes her. Luckily for her, best man Asher steps in to save her and the ceremony.
"Please." Asher waived me off. "Have you ever been to a TV newsroom wedding? By the end of the night they'll be so blind drunk they won't remember their own names, never mind your little surf-and-turf snafu."
I snorted. "Maybe I need to start spiking drinks just in case…"
Piper is bit horrified to actually be attracted to Asher. Yeah, he's attractive and wealthy and single, but he's also never had to work for anything and his work ethic leaves a lot to be desired. She's determined to stay away from him after the wedding, until she learns that she's being promoted to be Asher's producer.
Piper is so very different from all of the women in Asher's life. She didn't just fall at his feet and she actually has expectations of him. His days of surfing in the mornings or just sleeping in are numbered when she shows that she will come to his place and drag him into work.
"You ready for that dinner, Batgirl?" he asked.
I groaned. "What if I begged for a bat check?"
"No way. We made a bat deal. I got to work early-"
"Um, you were still, like, three hours late."
"-and, in return, you agreed to let me take you out to dinner."
Asher is more than willing to mix business and pleasure, but Piper is reluctant. She knows what is at stake for her and she isn't willing to give up her career for just a fling. She definitely challenges him to look at himself and his life. They have great chemistry as they cross that line from co-workers to friends to lovers.
Break of Day is an entertaining opposites-attract office romance. Mari Madison created plenty of tension and anticipation along with really good character development. Ms. Madison created a good balance of fun, serious, drama, and heat. Break of Day can be read as a standalone in the Exclusive Romance series. Fans of Cate Cameron and Amanda Ashby will enjoy Break of Day.
Book Info:
Kim| 4 Stars | Nope! | No |
Publication: Expected publication: August 2nd 2016 | Berkley | Exclusive Romance #2
From the author of Just This Night—
There's a chance of a heat wave for the crew at News 9 San Diego…
Asher Anderson is an amazing surfer—with a body to match—but he's pretty much the world's worst weatherman. He'd prefer to catch the perfect swells in the morning so he tapes his forecasts in advance—it never rains much in San Diego anyway. The suits at News 9, however, would love to fire him, but since he's the son of the station owner, they'll just have to get creative…
Piper Strong thinks she's scored her dream job when she's promoted to weather producer. Glorified babysitter is more like it—she's now responsible for bringing Asher back to shore. The problem is she's afraid of the water, and she wasn't counting on her growing attraction to Asher. But if Piper can just weather this storm, she'll be able to carve out a career to be proud of—and maybe even a place in her heart for love….