In Brighter than the Sun (KGI #11) by Maya Banks, with the help of an old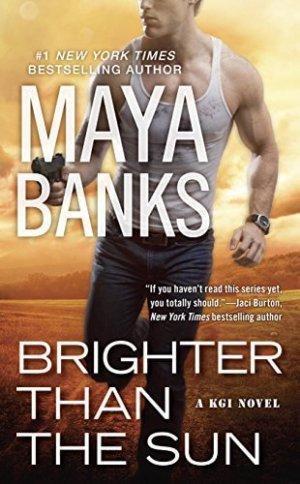 college friend, she managed to change her name to Zoe Kildare and go completely off the grid, so no one could find her. Staying with her friend's family, Zoe never imagined she'd fall in love. However, with her past bound to catch up with her, will Zoe be able to have the happy ever after she deserves; or will she run, believing she's not good enough for the man she's fallen in love with?
"I forgot what you do most of the time." His smile and ready laughter faded as he tensed. "How hard it must be to protect and defend people you don't know at such a great risk to yourself. I'd be shocked if you weren't all those things your brothers call you. But that isn't who you are. I haven't seen that person even once. I think I've figured out your little secret, Joe Kelly."=
He looked at her in horror. "You're not going to expose me, are you?"
"What you are is a nice guy. A tough guy outside and a completely gooey, mushy softy on the inside."
I have read a few books by Ms. Banks, but unfortunately I haven't had the chance to read this series yet, so I'm glad this story could be read as a stand-alone. From start to finish, Ms. Banks has penned a wonderful romantic suspense filled with great characters and well-written dialogue that kept me hooked to the fast-paced plot because of everything this couple goes through on their journey to happy ever after. Zoe is a mystery to Joe, one he wants to solve. The question is – will she put her trust in another man when the last man she trusted betrayed her?
The dialogue was intense due to the main characters back stories, especially that of the heroine. She's been through so much and I could understand why she feels the need to keep her identity hidden from the Kelly family. No way does she want to put any of them in danger because her ex wishes to use her to hurt her father. Yet, it was the sweetness of the hero; the way he doesn't push to win her trust and Rusty's loyalty to Zoe that I liked the most about the dialogue, even though it puts a wedge between Rusty and the rest of the Kelly family, which will make things interesting for future books in this series.
Both the main and secondary characters entertained me from start to finish with their back stories, what the hero has to do as part of KGI, the bond Joe has with his twin's wife, and what happens at the end that had me on the edge-of-my-seat. Would Zoe and Joe get their happy ever after? What would happen with Rusty after what happens between her and the Kelly family that makes her feel apart from them? Would Zoe be able to help Rusty like her friend helped her?
="Oh God, if you could just see your face," she sputtered and choked out.
"Yeah, yeah, have your fun. Kick a man when he's down," he grumbled good-naturedly. "We'll see who has the last laugh."
"Do they also call you a bad sport?" she teased.
"Definitely."
She cracked up again. "No! I can't imagine why."
"Sarcasm doesn't suit you, pretty lady."=
Zoe really grows throughout this story, because of the Kelly family. Her ex and her father are two men not to be messed with. They've both managed to crush her confidence, so I'm glad that Joe and his family show her how a family should be. That no matter what happens they'll be there for each other and show her that she can rely on them too. While Joe, he's not interested in relationships, but there's something about Zoe he can't resist and I liked how determined he was to win her trust. Everything he does for her illustrates he has a kind and caring side to him, which is the total opposite to how he operates in the field in his work for KGI. Although he does know how to joke with his team as well, which is proven during one of the KGI team meetings?
Overall, Ms. Banks has penned a really good book in this eleventh story of her KGI series where this couple's strong chemistry spilled over onto the pages in hot sex scenes and the secondary characters have me wanting to read the previous books of this series, because their back stories sounded really intriguing. The way this story ended had me on the edge-of-my seat because of the suspense. Would everyone come out unscathed in the confrontation against whoever comes after Zoe? However, it was the last chapter and the epilogue that wrapped this story up perfectly; because Zoe finally realizes that she can't let her past and who her father is hold her back from being happy. I would recommend Brighter than the Sun by Maya Banks, if you enjoy romantic suspense, read the other books of this series or enjoy reading books by authors Pamela Clare, Julie Ann Walker or Susan Stoker.
Book Info:

Publication: March 7th, 2017 | Berkley | KGI #11
The Kelly Group International (KGI): A super-elite, top secret, family-run business.
Qualifications: High intelligence, rock-hard body, military background.
Mission: Hostage/kidnap victim recovery. Intelligence gathering.
Handling jobs the U.S. government can't…
As the last unattached member of the Kelly clan, Joe is more than ready to risk life and limb on any mission he's assigned to, but when it comes to love, he'll keep his distance. He's content to watch his brothers become thoroughly domesticated.
Zoe's had nothing but heartbreak in her life, and she's determined to start over with a completely new identity, thanks to her college friend, Rusty Kelly. But it's the gorgeous smile and tender words of Joe Kelly that begin to weaken her resolve to never risk her heart again. And Joe will have to put everything on the line to save Zoe, when secrets of her past resurface—and threaten to tear them apart…