Broken by Lisa Edward is penned beautifully and contains characters that will steal your heart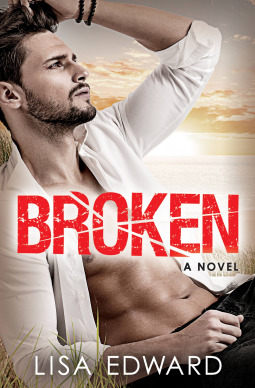 right from the start. Sugar and Buttercup are the type of characters that will stay with you, long after the story has ended.
Adam Walker is a teacher and Evie Rivers is a writer. Both characters are only in the Hamptons for eight weeks. For Evie, the eight weeks will give her enough time to write her book and put her failed marriage behind her. For Adam, the eight weeks will allow him to relax and escape through his paintings. Neither is expecting to find friendship and eventually love, but the best things always come when you least expect them.
Evie is getting her life back after her lackluster marriage has ended. She's ready to pick up and get started writing again but erotica isn't what it used to be. Thankfully, Adam is there to help her out and correct her terminology and give her insight into many different positions.
"Evie, you're a beautiful, sensual woman. You just haven't realized it yet." He paused before adding quietly, "But you will."
For Adam, meeting Evie is a new lease on life, it's also the very definition of bad timing. He's getting over a bad breakup and is going through some things. Things that he refuses to clue Evie on. He only wants to bring joy into Evie's heart and whatever Adam is going through is heartbreaking.
Broken is a beautiful story that includes realistic elements that readers will appreciate. The parts that are supposed to be funny actually are and the parts that heartbreaking will evoke multiple emotions out of you. I will admit to shedding a few tears during certain parts, especially the end, and any story that can pull that kind of reaction out of me, is one for the record books. Highly recommended!

Book Info:

Publication: October 4th 2016 | Forever Yours |
I wasn't looking for love, but it found me.
After giving up my dream of becoming a writer in favor of a marriage that was destined to fail, I'd been given a second chance. A chance to discover if after seven years, free-spirited Evie Rivers still lay beneath the surface.
For eight weeks, it would be just me, my laptop, and the wintry Hamptons landscape. No distractions, no interruptions. At least, that was the plan. Until he came along.
Adam Walker. He was a smart, sexy Englishman hell bent on helping me find what I had lost: myself. He laughed easily and found the good in every situation, but I couldn't help wondering what sadness lay behind the smile that slipped when he let his guard down.
Suddenly, though eight weeks doesn't feel like long enough, maybe eight weeks can be all it takes to change your life forever.