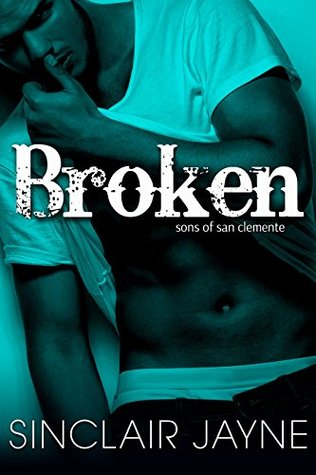 Broken by Sinclair Jayne: This is one of those stories that you don't really know what is going on until it happens, in the best possible way. The story keeps you engrossed and is totally twisting back and forth the entire way through. There is a history with the two main characters and though 12 years have passed in terms of their relationship it's almost as if no time has. Ms. Jayne has done a terrific job putting together a well thought out amazingly written novella that it's cookie cutter nor is it clean, but it is real and it is something you will love.
Book Info:

 February 15th 2016 | Tule Publishing | Sons of San Clemente Book 3
Lane Duke, game designer and mogul, is carving the edge of his company's most advanced release just days away. Excitement and tension are jacked tight. The future is wide open. Until he sees his past rise out of the Pacific in a barely there bikini, and 12 years disappear in a blink.
Luz De Luna doesn't want to dig up the past and Lane is her past with a capital P. Newly divorced, she's returned to San Clemente to bury some ghosts, but it's hard to move on when the path to personal redemption is blocked by the one man who won't forgive and she can't forget.