Broken Play by Samantha Kane can be summed up in one word…HOT! This book is not for the faint of heart and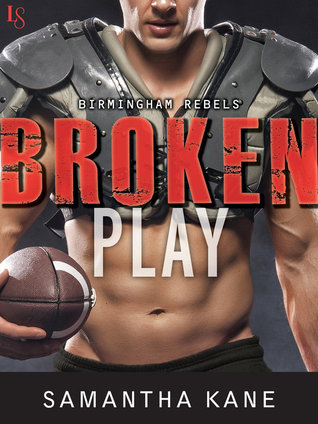 not everyone is going to be comfortable with everything that goes on in this book, more specifically the end. I am an open person and love all romance books, so this book was good for me. I will say that this author shocked me completely at the end. I did not see that ending coming. I thought it was going to go one way and then the characters take it in a whole another direction…and it wasn't bad, just shocking.
Marian is the new assistant coach to the Rebels. The Rebels are a bunch of misfits who need to get along and play the best football game they can while they still have the chance to play.
"If we don't make it here, we don't make it anywhere. We're the redheaded stepchild of the NFL."
Two specific players show great interest in Marian and set out to pursue her, only Marian doesn't make it easy. She has some demons in her past that won't allow her to move on, but Cass and Beau won't give up on her. They help her fight her fears and she returns the favor, by showing them what they've been missing.
I was immediately pulled into the story because of the chemistry and understanding between Cass, Beau, and Marian. All three of them just clicked together. They needed each other to become whole and understand exactly what's been missing in their life.
I will offer a warning. Broken Play by Samantha Kane deals with hot sex. Hot sex with multiple partners and hot sex with the same gender. For those readers who have no problem reading books like this, you won't want to miss out on Broken Play. Be prepared though…you're e-reader might just catch on fire from all the heat.
Book Info:

Publication: September 1, 2015 | Loveswept | Birmingham Rebels #1
Perfect for fans of Shayla Black and Lexi Blake, the deeply sensual new Birmingham Rebels series introduces an unforgettable team of chiseled football gods—and the daring, provocative games they play behind closed doors.
Birmingham Rebels offensive linemen Beau Perez and Cass Zielinski are inseparable, on and off the field. Cass, the captain with the cowboy swagger, is a loose cannon. Beau, the veteran tight end, is cool under pressure. And ever since they were caught on tape in a steamy threesome, their exploits have fueled more than a few tabloid headlines—and naughty fantasies.
Marian Treadwell knows all about the video. And now that she's the Rebels' new assistant offensive coach, she can't look at Beau and Cass without picturing their hard, naked bodies—with her pressed in between. Marian would like nothing more than to indulge those impulses, but she knows better than to get too close to her players, a bunch of adrenaline-fueled alpha males who don't always follow the rules.
Just the thought of sharing the gorgeous yet guarded Marian drives Cass wild. At first, Beau isn't sure she's right for them . . . and lately, all he desires is a little alone time with Cass to explore their new intimacy. But it's only a matter of time before Cass breaks through both of their defenses. Because when seduction is the game plan, he always plays to win.
Broken Play is intended for mature audiences.