In Broken Wings, Soaring Hearts by Beverly A. Rogers, Hailey Holman is determined to keep her late father's dream alive, which she believes is God's plan for her. Hailey plans to re-open the small-town Texas base station against her mother's wishes and two town bullies and neighbors who blame her family for their family's bad luck and who also want to open their own base station. But she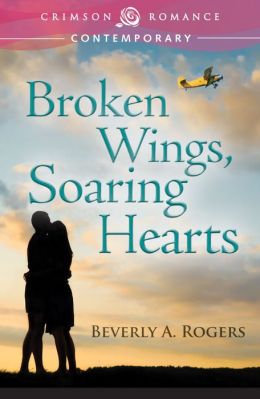 needs help to do that, and she needs someone that can help her with repairs and also with flying.
Jack Stinson is tired of the fast growing, little quality and standards of the big-city life and business, especially his own father's rat race to keep growing the family company without any consideration. So now he has quit and is looking for a peaceful place to escape and to go back to what he likes which is to work personally on the planes.
Jack may seem like a dream come true to Hailey, but convincing to stay with her mother screaming she doesn't want the station re-opened and with the two bullies throwing bottles and damaging Jack's car is not the way to go do it. Good thing that the nearest hotel is too far away and he will have to stay overnight before he can leave, which will give her more time to convince him to stay to help her.
While Hailey and Jack seem to be working for what they want, Jack sees what Hailey doesn't and he feels that her mother has deeper reasons for her fear of airplanes than Hailey thinks, but convincing her to listen will be hard work. While he will also have to learn a few lessons of his own and see his own situation with his father from another perspective. The toughest decision they will have to face is to fight for the feelings that have been growing between them or loose their chance at happiness because of pride and see the true path that God planned for each of them.
For a sweet, deep and very inspiring and fast read with a great plot that will keep you hooked to know what happens next, don't miss Broken Wings, Soaring Hearts by Beverly A. Rogers
Book Info

Publisher: Crimson Romance (June 24, 2013)
Hailey Holman is a woman determined to keep her dad's memory and his dream of reopening their small-town Texas base station alive. Jack Stinson is looking for a peaceful place to escape the rat race of the big city life and big city business of his own family's airplane manufacturing business.
What a perfect match. Other than the fact that her mom hates the flying business with a passion and fights Hailey's every effort, and Jack's dad fought his every effort to make the break, then disowned him for leaving. Throw in two town bullies who insist on opening a base station of their own and reeking havoc on Hailey's plans and her own determination not to get personally involved with the employees, and it's anything but smooth sailing.
But these two focused pilots might just be surprised how things can work out with enough stubbornness . . . and faith.
Sensuality Level: Behind Closed Doors