Brooklynaire by Sarina Bowen is the fourth book in her sexy hockey themed series The Brooklyn Bruisers.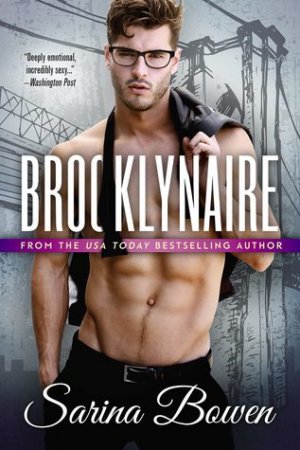 It's a standalone workplace romance with a friends to lovers theme. Readers of the series have seen glimpses of Nate and Becca in previous stories and have been waiting for this one, which proves to have been worth the wait!
When Becca first met Nate, he and his small group of computer obsessed friends were just starting out with their small business. Hired to be their administrative assistant, Becca and Nate became fast friends and as Nate's company flourished, Becca took on more and more responsibility. During the past several years they'd had relationships with other people. When they met, Nate was engaged to a woman who later cheated on him. Because of this, they'd never entertained thoughts of each other in a romantic way, or at least not until recently. While Nate may have had a crush on Becca in the ensuing years, he'd never given a hint of it away, knowing that losing Becca both professionally and personally would be too big a risk to take.
Now Nate is the owner of the Brooklyn Bruisers and Becca works for him as his office manager. A recent accidental fall has left Becca with a mild concussion, one doctors insist she recover from fully before going back to her job. With her sister's family currently living in Becca's small apartment, Nate offers her the use of a room at his massive (and sometimes lonely) house. While there, Becca starts to see Nate in a new light. Is the timing finally right for them to take the step from friends to more?
I love the Brooklyn Bruiser series and am so delighted to finally have Nate and Becca confront their feelings for each other! The author does a great job of setting up their history, emphasizing their friendship and how they really had not entertained thoughts of anything more until recently. It was an interesting plot device to have Becca dealing with the real and challenging issue of recovering from a concussion. Of course in hockey it's a constant worry and because players on the team have also dealt with it, the characters here don't take it lightly.
Nate's a good hearted, very likable, somewhat introverted man. His reasons for buying the Brooklyn Bruisers team in the first place are complicated, and there are some interesting situations that come up later in the story when the team is in the playoffs for the Stanley Cup. We get lots of behind the scenes looks at the team as they move up in the standings, and some on ice scenes as well (from the viewpoint of Becca and Nate as spectators).
When Becca starts to see Nate as someone she's attracted to, their relationship moves to that of lovers, with some very sexy scenes between them. Becca worries more about what will happen if it becomes public than Nate does and wants to keep things between them secret for the time being. The difference in wealth is a factor for them as well, as Becca has always been independent and doesn't want Nate to think she'll start using him for his money. Nate on the other hand would spoil Becca rotten if she'd give him the chance. Eventually they can't keep things secret any longer but it doesn't mean their road to happiness isn't paved with a few bumps along the way. Brooklynaire delivers a sweet, sexy, and fun hockey themed romance and fans of the series will be very happy to see Nate and Becca finally together.
Book Info:

Publication: Feb 12, 2018 | Rennie Road Books | Brooklyn Bruisers #4
You'd think a billion dollars, a professional hockey team and a six-bedroom mansion on the Promenade would satisfy a guy. You'd be wrong.
For seven years Rebecca has brightened my office with her wit and her smile. She manages both my hockey team and my sanity. I don't know when I started waking in the night, craving her. All I know is that one whiff of her perfume ruins my concentration. And her laugh makes me hard.
When Rebecca gets hurt, I step in to help. It's what friends do. But what friends don't do is rip off each others' clothes for a single, wild night together.
Now she's avoiding me. She says we're too different, and it can never happen again. So why can't we keep our hands off each other?