In Butterfly Cove (Summer Island #3) by Christina Skye, 'Bad boy + good girl = hot gossip.' Olivia Sullivan's life has undergone some serious changes recently. As an only child, she has had to deal with settling her father's estate since his death about a year ago and now she just lost her position at an architecture firm. At least she has a promising new business venture with her three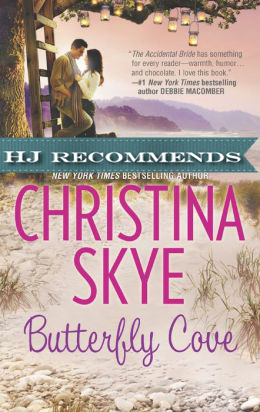 best friends. They've restored the Harbor House and have set up a few shops inside they hope will breathe new life into their small community.
'People remembered Rafe for his misbehavior and his bad-boy charm, but she remembered him for his strength.'
As soon as Olivia returns to Summer Island, she runs into her old friend, and first love, Rafe Russo, who has just joined the local police force. She knows he had joined the Marines and served overseas for several years but hasn't heard from him since the night he left town…and broke her heart in the process. Growing up, they were best friends who could talk about anything, but things get off to a rocky start when they finally meet up again. Olivia doesn't want to face Rafe and bring up painful memories but she's drawn to him the same as she always was. If anything, their attraction has actually grown. Olivia has to decide if she can put the past aside or if there is too much bad blood between them to get past.
'All her old, hungry memories came back and she realized then there had never been room for another man in her life. Rafe had filled up every part of it. There never would be another man in her future.'
Rafe Russo is trying his best to return to civilian life after a decade in the Marines. The last thing he wanted or expected was to be offered a job as a deputy sheriff in a town in which he spent his childhood wreaking havoc. Rafe has also spent years wishing things had turned out differently between himself and Olivia. She's the only thing that kept him sane when he was in harm's way overseas. Rafe realizes he has a chance to try to make amends for what he did as a teenager, both to the town and Olivia. He only hopes this time things will turn out the way he plans.
"You mattered to me. You always did. I think you always will matter to me, damn it. So don't treat this lightly and don't think I'll treat it lightly either," he said grimly.
Butterfly Cove is a lovely, passionate novel set in a picturesque coastal community. Author Christina Skye described the setting in wonderful detail and created a realistic feeling of community amongst her characters. This is book three in the Summer Island series and there was just enough of a backstory that this can be read as a standalone. However, I think readers would understand the dynamics of the four best friends better if they had read the previous two novels.
The good girl/bad boy trope works so well in a small town setting like Summer Island. Our protagonist Olivia was part of the town's elite families growing up and people would guess that she had a happy life. But she hid her anxiety over her father's harsh criticism from everyone. She felt happiest when she was with Rafe and her three best girl friends. As an adult now, we see her struggling to try to keep everything compartmentalized and controlled to help alleviate her fears. Rafe's appearance changes everything for Olivia in an instant and things get messy and confusing.
Rafe had a tough childhood and acting out was the only way he knew how to deal with his emotions. Olivia saw the best in him and in turn, Rafe thought he could do something positive with his life. I loved that he kept her in his thoughts through his worst times in the Marines, proving that love can help you through any obstacle.
I definitely suggest Butterfly Cove if you love honest, passionate Contemporary Romance full of longing and deep emotions.
Book Info:

Published September 24th 2013 by Harlequin HQN | (Summer Island #3)
Girl's gone bad…for the town's new golden boy
Maybe opposites don't always attract. If they did, architect Olivia Sullivan would have run away with bad boy Rafe Russo when they were teenagers. Instead, Olivia has spent ten years dreaming up designs for a life that hasn't gone the way she planned. Still reeling from her career's implosion and her father's death, Olivia thanks her lucky stars for the support of her three lifelong friends. But this good girl is through sitting on the sidelines. When Rafe returns to the beautiful Oregon coast where they grew up, her former flame ignites a new desire. Now Olivia must take a walk on the wild side to show the new deputy that in matters of love…being bad can feel very good.
Freshly back from Afghanistan, rugged ex-Marine and new deputy Rafe is done breaking laws and hearts. He's always regretted leaving Olivia behind, but now she's after adventure and he'd better proceed with caution. Because wanting her again might be easy, but fighting for a future together will be his biggest risk yet.