Butterfly Dreams by A. Meredith Walters: With an intense case of hypochondria caused by the death of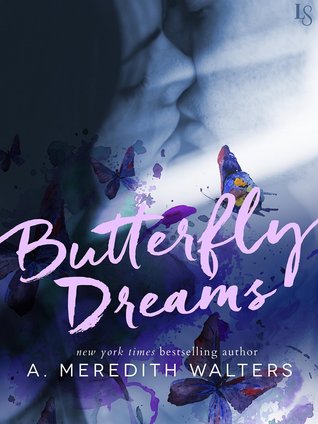 both her parents several years ago, Corin is obsessed with death and convinced she's going to die. Beckett actually did die for a few minutes due to a massive heart attack caused by a condition he never knew he had. Now he needs to learn how to live again.
Meeting at a Mended hearts group meeting for those with heart problems, Beckett refuses to leave the socially anxious Corin alone. He sees her pain and a woman he wants to be there for, even as he deals with his own pains only Corin seems to notice.
"My fingers gripped her arm and I suddenly wished I could feel her bare skin under my hand.
Suddenly what started as a purely platonic gesture began to feel like something else.
I really should move my arm. I was making this way more complicated than it needed to be.
But then she leaned into me. Just a fraction of an inch. Nothing much.
But it was enough.
So I kept my arm where it was."
Although off to an awkward start, with Corin not exactly being the social type, Beckett breaks his way through her walls and just maybe Corin will finally learn how to be fearless.
"'What do you eat, anyway?' I rambled. Dear God, I sounded like a fucking moron. I stuffed my mouth with another cookie. Anything to stop the verbal diarrhear pouring out.
'The flesh of the unborn,' she deadpanned, and I made a choking noise. I ` swallowed the cookie and coughed."
My heart broke several times throughout this story. It is intensely emotional in both fantastic and awful ways. Corin kills me with her pain and Beckett with his lost identity, but at the same time I burst out laughing or swoon at their remarks. I especially swoon at their love and passion for each other.
Extremely awkward at first, it's a slower build from acquaintance to love as Beckett has to push through Corin's intense fears and bring out the brave, undefeatable woman underneath.
At times, it did get a bit too painful with Corin's hypochondria which stopped me from loving Butterfly Dreams 100%, but overall their problems felt real and deep, and I wanted more than anything for them to move beyond and grow stronger together. Find a new reality and happiness, which they did get in the end.
Although the moment of reckoning was a tad bit cliché, it still fit. I would highly recommend Butterfly Dreams by A. Meredith Walters for any romance reader, especially if you like some real emotional highs and lows in your novels.
Book Info:

Publication: November 24, 2015 | Loveswept |
In a powerful romance for fans of The Fault in Our Stars and If I Stay, New York Times bestselling author A. Meredith Walters tells the story of a troubled young woman and the unforgettable guy who teaches her to live—and love—to the fullest.
She's waiting to die. . . . Corin Thompson is paralyzed by her obsession with mortality. Having lost both of her parents, she is terrified by the idea that she too will die young, and she loses control at any sign of illness. But when Corin connects with someone who has survived a very real brush with death, she begins to see the world in a whole new way.
He's learning to live. . . . As Corin struggles under the weight of her neuroses, Beckett Kingsley is attempting to rebuild a life that feels all too temporary. With the ever-present threat of heart failure never far from his mind, he just wants to make the most of whatever time he has left. And that means pursuing the girl he never expected to find.
Together, Corin and Beckett finally learn to let go of their fears and take solace in everyday pleasures. Who knows what the future holds? After all, nothing lasts forever—the only promise they have is right now.