Call on Me by Roni Loren: Oakley is a single mom and trying to make ends meet by working an unconventional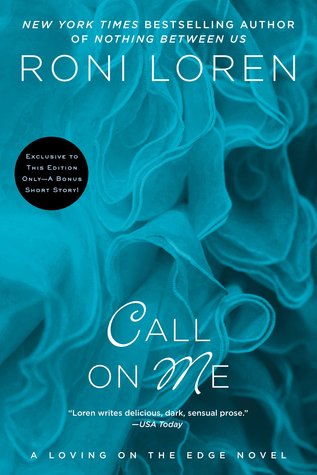 second job. She's determined to do right by her daughter and puts her first. Oakley is a talented singer and songwriter, but she's firmly shoved aside her musical nature after being burned by the industry as a teen.
Pike is a drummer of an up-and-coming band that's just gotten back on track. They're hoping to get more exposure and play bigger events now that all the members are back together. He's a great drummer and an aspiring producer. Pike loves to find new talent and help to bring the best out of the artist.
After a rough childhood and protecting his siblings, the last thing Pike wants to do is work with kids but he can't say no to a new charity project. He's thrilled to be working with the buttoned-up and very sexy Oakley. Oakley is less than thrilled to work with the tattooed bad boy who has trouble written all over him, especially since he has awakened her dormant libido.
"Because I'm not interested."
"Liar."
She huffed. "Are you always this cocky?"
"No. It's dialed down right now. I can get way worse."
She stirred her drink. "Not. Possible."
His lips spread into a menacing smile. "Challenge accepted."
Pike and Oakley actually work really well together on the project, which Oakley needs to succeed so she can get a much-needed promotion. While there is an apparent attraction, Pike represents everything that Oakley doesn't want. When Pike shows his acceptance of her second job, their relationship begins to evolve. Their connection is much more than just a fling, but their lives are very different.
"Begging words sound so pretty on you, baby."
"Next time I'll make you beg," she threatened.
He bit her shoulder with enough pressure to sting. "Look forward to it."
That's when she realized he'd won. Not the game they were playing but the much bigger one. She'd just agreed to a next time.
Call on Me is a sexy romance set in the music world with engaging characters. Call on Me can be read as a standalone book within the Loving on the Edge series. Roni Loren created a couple that brought out the best in each other. Ms. Loren introduced readers to a great group of secondary characters from the Loving on the Edge series in a way that doesn't leave new readers lost. Fans of Shayla Black, J. Kenner, and Nicole Edwards would love Call on Me!
Book Info:

Publication: July 7th 2015 | Berkley | Loving on the Edge #8
The new Loving on the Edge novel by the New York Times bestselling author of Nothing Between Us and Need You Tonight…
Oakley Easton wants two things: to be a good mom to her daughter and to ditch her less than ideal night job. Hooking up with bad boy drummer Pike Ryland? Not on the agenda. She needs a promotion. Not sex, tattoos and rock 'n' roll.
Pike isn't about to let Ms. Prim and Proper shut him down so easily, especially when he stumbles upon Oakley's sexy night job. She's only playing a role on those late night calls with strangers, but when he gets her on the line, all bets are off. He won't stop until that sultry voice is calling his name for real.
But as they move from anonymous fantasies in the dark to the flesh-on-hot-flesh reality of the bedroom, the risk of falling in love becomes all too high. And the safe, quiet world that Oakley's worked so hard to create is about to be exposed to the one person who could ruin it all.