Called Out (Calling It #3) by Jen Doyle: Jack betrayed his best friend by sleeping and impregnating his best friend's fiancé. Although it led to his friend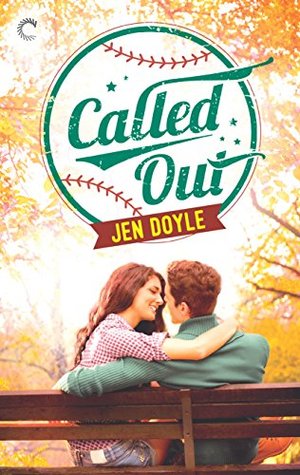 escaping a relationship that was destroying him and finding the true love of his life, it's not exactly that forgivable. But that's exactly what Jack needs if he wants another year playing baseball. And he's beyond shocked when his old friend is willing to give him a chance – even though it means staying in his friend's hometown where everyone knows and hates him.
Lola may find Jack to be one of the most attractive men she's ever met, but she knows whose side she's on. Except, Jack isn't anything like she expected. In fact, she can't get him off her mind and more and more he's being integrated into her family. With four young boys, too many jobs, and a house to renovate, Jack becomes just the lifesaver Lola needs.
Jack doesn't believe he deserves absolution or that he can have any sort of long lasting love, but Lola intends to prove him wrong. She sees how perfectly he fits, she just has to find out how to make him believe in himself.
If she hadn't been working so hard to hold in all the pieces of her that were ready to dissolve into mush, she would have whimpered.
"How can you possibly be this beautiful?" he asked, his mouth running down the slope of her shoulder.
I definitely found it hard to have a hero who did something so awful, there really was no way to explain it away (and nothing was ever mentioned about what happened with the pregnancy), but I loved Jack anyways. He was broken and sweet and giving and very very sexy. Honestly, just the perfect match for Lola and her rowdy boys.
Lola, too, I loved. She was strong and highly independent, not allowing the overprotective men in her life too much of a say in what she chose to do. And it was definitely a joy watching her slowly fall harder and harder even as she struggled to keep her attraction under control. I strongly felt the depth of their emotion for one another. This is a couple I believe in and I just want to read more of.
For those who love a sports romance or want the hero in need of forgiveness I highly recommend Called Out. I definitely think it would help to begin with the first in this series as we get the betrayed friend's story there, but it can be read as a standalone.
Book Info:

Publication: May 29, 2017 | Carina Press | Calling It #3
Jen Doyle is back with another hot and heartfelt home run of a contemporary romance. Fans of Jill Shalvis should prepare to swoon over Jack and Lola's HEA.
Jack "Ox" Oxford is used to being alone. Granted, when you screw over your friends, being alone isn't always a choice. Playing for the Chicago Watchmen is a last-ditch effort to save his career…and right some of his past wrongs. He's not expecting a warm reception, but he's also not expecting a flat tire to change everything.
Recovering control freak, single mom and semiprofessional chaos wrangler Lola Deacon McIntire doesn't need an arrogant ballplayer to swoop in and save her from anything, much less her flat tire. And she definitely doesn't need her body to betray her and decide this is the guy to wake up her rusty libido. She isn't about to upset her sons' lives for any man—much less one who so clearly doesn't think he's dad material.
Jack never thought he'd find someone who wanted to build a life with him, but the more time he spends with Lola and her boys, the more it starts to feel permanent. Even tough-as-nails Lola concedes there just might be a future here—the big, beautiful, messy future neither of them was looking for—but only if Jack will accept he deserves it.