Called Up by Jen Doyle: Best friends for over fifteen years, only recently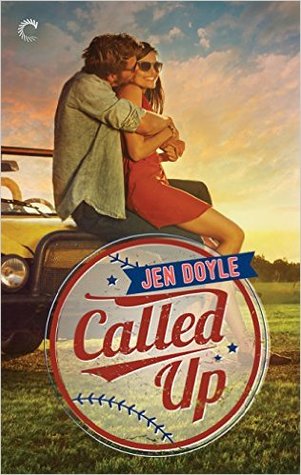 has Fitz and Deke begun noticing each other in a different manner. For Deke, the guy everybody loves and the ultimate playboy, he knows Fitz can't be just another notch on the bedpost, but he just can't get her out of his mind. Especially not when secrets from her past are popping up and Deke begins realizing not all is as it seems.
For Fitz, she can't ruin her friendship with Deke, no matter what. Feeling like the outsider in her small town due to her father's past, Fitz holds tight the friends she has, and Deke is the most important. Except, her attraction won't stop and she's starting to think maybe she can give in and keep her friend.
But as Deke falls harder and harder, Fitz continues to withhold, keeping one last secret and running from a relationship she doesn't know how to trust in.
The friends to lovers trope isn't for me, but I just loved Called Up. Deke is one of my favorite heroes. The love he gives to all those he cares about is amazing, and the intensity of his desire for Fitz is perfect. He may not know how to have a relationship, but he is damn good at the chase and putting himself out there to get the girl he wants.
My favorite scenes are them opening up to one another. I truly saw both characters grow as they fell for one another. A big issue with friends to lovers I often see, is that the relationship is set up so it essentially becomes about sexual attraction. But for them, it was about deepening their bond – along with, of course the reopened sexual desire from when they first met.
The second in a series, I would recommend reading the first before Called Up. It would make the story a lot clearer because much of the background is set up in the first. That said, I do highly recommend the first, and I highly recommend this second, especially for those who do love the friends to lovers trope. It's funny, sweet, sexy, and real. Everything you could want in a romance.
Book Info:

Publication: August 29, 2016 | Carina Press | Calling It #2
There's one thing Max "Deke" Deacon can always count on besides his old high school teammates: Angelica "Fitz" Hawkins. But no matter how much Deke might secretly fantasize otherwise, a relationship with his best friend's sister is off limits. Until one unexpectedly smoldering encounter has Deke and Fitz giving in to the feelings they've both been fighting for far too long.
Fitz knows for a fact that it is not better to have loved and lost. After losing her parents, she'd rather lock up her heart and throw away the key than endure that kind of pain again. If that means giving up any hope of a lasting relationship, then so be it.
But with Deke, Fitz feels dangerously close to falling in love. She can't risk another broken heart—especially if it means losing one of her best friends for good. Now it's up to Deke to convince her that the safest place she could ever be is right here with him.