Can't Forget You by Rachel Lacey is the third book in the Risking It All series. Mark is the third co-owner of Off-the-Grid Adventures,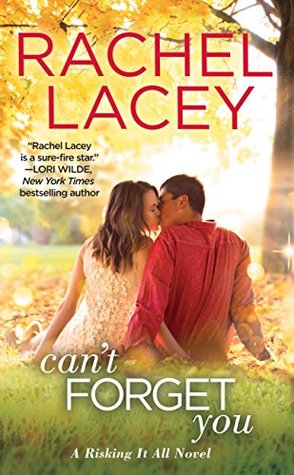 and I've been looking forward to his story. I wasn't disappointed.
Mark and Jessica were high school sweethearts, but when Mark's path started taking a troubled turn, he joined the Army, leaving Jessica behind. After being discharged from the Army due to an injury, he returned to town to start Off-the-Grid Adventures with his three friends. Jessica wants to avoid him at all costs, but when she wants to buy land to expand her spa and the guys want the land to expand Off-the-Grid, they come face to face. When a third party becomes interested in the property as well, the pair join forces to get what they want. But when Mark's past comes back to town and Jessica suddenly comes down with a mysterious illness, will their newfound relationship be able to survive?
I liked Mark and Jessica together. Both were willing to put their differences aside to get what they wanted. Despite her initial hesitation, Jessica is willing to give Mark a second chance. I admired that no matter how poorly she was feeling, she was determined to keep going, not giving up on the spa expansion and the competition at Off-the-Grid.
Mark didn't have the best childhood, and I felt bad for him when a reminder of his past shows up. I would have liked to have seen that wrapped up a little more, to see if Mark actually develops a relationship with this person, but it's pretty much left at the fact they would talk. Still, I was happy he decided to make the choice to reconcile his past so he could truly move on.
This can be read as a standalone, even though the couples from the previous two books are in this one as well. It was nice to catch up with them and see what was going on in their lives.
Readers who enjoy second chance romances are in for a treat with Can't Forget You.

Book Info:

Publication: December 19, 2017 | Forever | Risking It All #3
Jessica Flynn can't wait to buy up that patch of unspoiled North Carolina woodland next door and expand her spa. What could be more sensuous than a hot-tub soak under the stars? Jessica would love to bask in the romantic view herself-but first she needs to find the right man to join her in this fantasy. Back in high school, she thought that was the dark and brooding Mark Dalton. But then he left to join the Special Forces, and when he returned to town, it felt like their teenage love affair had never even happened.
Mark Dalton has his eye on the same property for his own business. Yet there's something he wants to have even more. Because Jessica is sweeter than he remembered, and he's finding it hard to resist his attraction to the competition. When they finally find themselves alone, deep in the forest, nature can't help but run a little wild. But if she ever finds out what he's been hiding all these years, she may never forgive him…