Can't Get Enough by Gena Showalter: I absolutely love Gena Showalter's The Original Heartbreaker series and have eagerly awaited the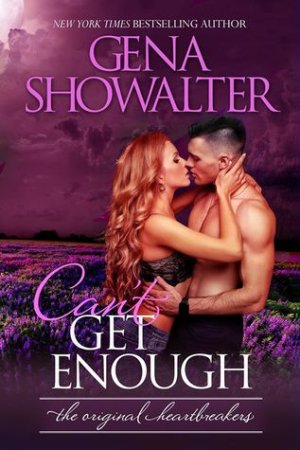 sixth book, Can't Get Enough. Both the heroine and hero, Lyndie Scott and Brock Hudson, have deep emotional wounds and heartbreaking backstories, and I knew their romance would be tender and heartfelt. I was right, and this is an entertaining and emotionally satisfying read.
Lyndie and Brock have had a romance building for some time, but both have been dealing with their own issues that prevented them from acting on their attraction. Lyndie grew up with an abusive father and was in an abusive marriage, and she has spent years regaining her sense or self and courage. Brock is intimating—he's ex-military and a big, loud guy—and, although she's insanely attracted to him, it's taken time to be comfortable around him. She's turned a corner and is now; therefore, when he makes her the unusual offer to be his temporary wife, she accepts, but only if he agrees to give her a baby.
Brock suffers from PTSD from the war and grew up with an emotionally abusive mother. He inherits his father's vast wealth but has to get married to secure it, and he can't imagine anyone other than Lyndie as his bride—even if it is a fake marriage. Their union gives them both the security to explore their insane chemistry, and this intimacy opens the doors for real feelings to develop. They are absolutely perfect together and their painful pasts give them a deep and unique connection. Brock is swoon-worthy in his care and consideration for Lyndie, and he's utterly drop-dead sexy and sweet.
Fans of this series will also love the glimpses of beloved characters from the previous books. This small-town romance will truly warm your heart with its passionate and emotional love story, and Gena Showalter has delivered another one for the keeper shelf.
Book Info:

Publication: 12/5/17 | Self-Published | The Original Heartbreakers #6
New York Times best selling author Gena Showalter returns with a sizzling Original Heartbreakers tale, featuring a rough, tough bad boy brought to his knees by… a kindergarten teacher?
The king of one-night stands…
To inherit–and destroy–his father's business at long last, Brock Hudson needs a temporary wife. The ruthless ex-military heartthrob has always avoided romantic entanglements. Women are sweet, but vengeance will be sweeter. Or so he thinks. Only one woman will do, but the vulnerable beauty is more than he bargained for—sexier, wittier, and utterly irresistible.
The queen of the deep freeze…
After an abusive first marriage, Lyndie Scott has sworn off relationships. But still she longs for a child of her own. Turns out, the brawler who used to frighten her with only a glance is the answer to her problems. She agrees to his proposal, with a caveat: spend every night in bed with her, then walk away for good when it's time to divorce. Even if she's pregnant.
A marriage of breathtaking inconvenience…
As the days pass too quickly and the nights heat up, Brock battles a sense of possession and obsession. Will the former commitment-phobe convince his wife they're better off together, or will she pack her bags and go?