In Can't Let Go (The Original Heartbreakers #5) by Gena Showalter, When former Army Ranger Jude Laurent walked into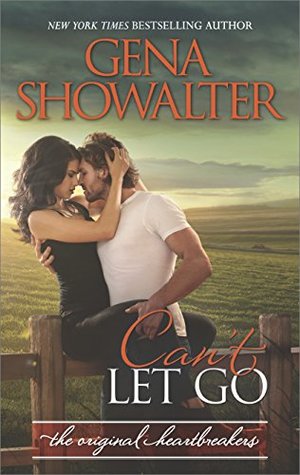 Ryanne Wade's bar, the Scratching Post in Strawberry Valley, Oklahoma, she knew she was in trouble. And since they have close friends in common she's heard the tragic story about how he lost his entire family–his beloved wife and twin daughters–to a drunk driving accident just after he lost the lower half of his leg in combat. The insanely gorgeous man is nothing but guilt wrapped up in grief. So even though Ryanne told herself she would steer clear of men, she finds herself trying to make Jude smile, or heck, give any type of reaction. Something in him calls out to her like no other. And it means she's going to have to be careful not to lose her heart to someone who may not be able to ever love her back.
'More than anything, she wanted to make him smile. The desire had become an addiction, an obsession. His innate sadness hurt her heart.'
Jude would do anything for his two best friends, Brock and Daniel, even follow them to the local bar where he has to encounter the beautiful and tempting owner Ryanne. He should despise her for plying her patrons with alcohol and setting them loose to potentially ruin someone's life. But the more Jude gets to know the feisty woman, the more he realizes she would never send someone out on the road drunk. Little by little, Ryanne chips away at the sorrow surrounding his heart until he feels like he's actually starting to live again. But just when Jude is ready to take a step forward with Ryanne, a shady local businessman ups the threats he's been making against her. Jude can't live through losing another person he loves so he has to figure out if staying with Ryanne is worth the cost or if he needs to cut and run.
"Why are you glad you met me?"
"You–" A low growl rumbled in his chest. "Damn you, you brought me back to life."
Can't Let Go was a perfect example of the combination of humor and darkness that Gena Showalter so expertly melds together in her books. And talk about pulling on a reader girl's heartstrings. *sniffle* But I wouldn't have had it any other way.
"Every day, in a thousand different ways, you undo me, love. You're my world."
I'm a big fan of Gena Showalter's work anyway, but this Original Heartbreakers series has been an amazing, wild & crazy-fun ride so far. This particular book, to me, is one of the heavier ones we've seen. Although there was still some great lighthearted flirting/bantering between Ryanne and Jude and of course some super steamy love scenes. But these two characters' individual backstories and how it affected them day to day just blew me away with the grief and trauma they'd suffered over the years.
My heart broke over Jude losing his beautiful wife and twin daughters in a tragic car accident right after he lost part of his leg in an explosion overseas. He was such an honorable man that even though he knew he had to carry on–he had promised his wife he would–his guilt over not being there with his family was about to break him emotionally. I have to say that Jude tried his hardest to avoid and push away Ryanne. His torment was kind of twofold: she owned a bar, making her the enemy, considering a drunk driver killed his family; and he didn't want to tarnish the memory of his wife by moving on to another woman. And I got it. I understood where Jude was coming from. But boy didn't he push the limits of Ryanne's patience and understanding, making some hurtful decisions along the way.
Ryanne was pretty awesome as far as heroines go. She was smart, sassy, she knew what she wanted and wasn't afraid to work hard to get it. And she was totally loyal to her beloved friends. She had gone through a lot in her childhood, with her mom moving from one man to another, some of them who were abusive to Ryanne and her mother. But she didn't let it get her down and it actually empowered her to be her own woman and not rely on a man. Jude, though, knocked her off her feet. She made it her mission to get him to enjoy life again and smile but ended up falling in love in the process. I had to cheer Ryanne on (the majority of the time, lol) for making Jude own up to his fears and the boneheaded choices he made pushing her away. I truly did love them together as a couple and appreciated their rather epic HEA very much.
Can't Let Go had some ultimate highs and deep, dark lows, but it all worked out exactly as it should have in the end. I'm excited to see what Gena Showalter has cooked up for Lyndie & Brock's romance coming up next. (Hint: it's a marriage of convenience!)

Book Info:

Publication: October 31st 2017 | HQN Books | The Original Heartbreakers #5
New York Times bestselling author Gena Showalter is back with a sizzling Original Heartbreakers tale about an icy war vet and the only woman capable of melting him…
With trust issues a mile long, Ryanne Wade has sworn off men. Then Jude Laurent walks into her bar and all bets are off. The former Army Ranger has suffered unimaginably, first being maimed in battle then losing his wife and daughters to a drunk driver. Making the brooding widower smile is priority one. Resisting him? Impossible.
To Jude, Ryanne is off limits. And yet the beautiful bartender who serves alcohol to potential motorists tempts him like no other. When a rival bar threatens her livelihood, and her life, he can't turn away. She triggers something in him he thought long buried, and he's determined to protect her, whatever the cost.
As their already scorching attraction continues to heat, the damaged soldier knows he must let go of his past to hold on to his future…or risk losing the second chance he desperately needs.