Can't Walk Away by Sandy James: Ever since Brad "Hitman" Maxwell discovered that his beloved and deceased wife was only ever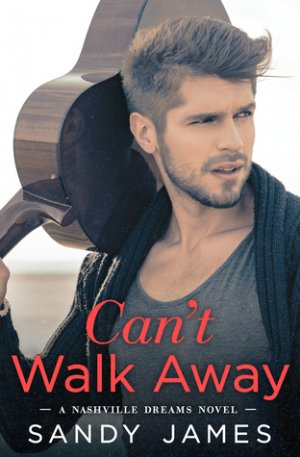 using him for his fame and sway in the music industry, he hasn't been able to write a single song. Or even want or trust another woman. That is, until Savannah Wolf begins singing during his bar's Indie Night.
Inspiration hits immediately, pushing Brad back into songwriting, and he's going to take Savannah along with him. She has the vocals and presence, and Brad knows she can make it big in Nashville. But Savannah only wants a simple life. Enough money to take care of her daughter and parents. The last things needs is to be pushed back into the world of greed that took everything from her several years ago.
As they fall deeper and deeper in love, they discover trusts comes hard, and that the spotlight might push too many demons to the fore.
Can't Walk Away is passionate and sweet. Savannah and Brad completely adore one another, and it's hard to not be swept away by that. However, they often annoyed the hell out of me. Their biggest issue was communication, and I am never a fan of that as a conflict.
Neither really listened to the other, and too much of their time together I didn't get to see them talking or really getting to know one another. I wanted more of that development, rather than having them repeat how much they loved the other and how insecure that made them feel.
Overall, it's a passionate story with a strong theme of music which I liked. While I did want more from their relationship, Brad and Savannah had plenty of intimacy to go around. The first in a series, I do look forward to reading the rest.
Book Info:

Publication: October 10, 2017 | Forever Yours | Nashville Dreams #1
In Nashville the stars shine a little brighter, songs sound a little sweeter, and love lasts a lifetime.
Young, rich, and better looking than a man has a right to be, successful songwriter Brad "Hitman" Maxwell was once Nashville's biggest celebrity. Then a heartbreaking loss and a shocking betrayal caused his light to go out. Now, instead of pouring his soul into song, he pours beers at Words & Music. His bar is the perfect escape–a place to forget his past–until the night she takes the stage…
Savannah Wolf used to dream of becoming Nashville's hottest star. Now, as a young single mom, she dreams of a steady income and being home to tuck her daughter into bed. So when Brad Maxwell offers her the gig of a lifetime–playing as the headliner at Words & Music–Savannah discovers the best of both worlds. And she refuses to ruin this opportunity by falling for her sexy boss. Except that Brad suddenly starts writing music again… music inspired by her.