Caribbean Cowboy by Jenna Bayley-Burke is a fun and quick read that will leave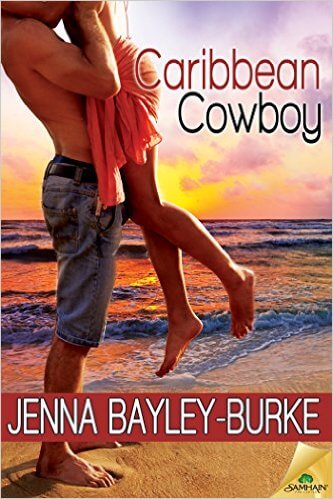 readers smiling. The banter between the two main characters is extremely enjoyable and the sex scenes are hot and highly satisfying.
Sparks fly when Dr. Janny Baird meets Nik Hansen. One night with Nik turns into a much-needed distraction, Janny so desperately needs. He's the answer to all her fantasies…and she has many of them, but don't worry he can handle every role.
Their one night together was supposed to be exactly that…one night, but fate has other ideas for them. Turns out Nik is her best friend's brother. Two months later when they meet again, their chemistry is still apparent and the heat between them sizzles whenever they are around each other.
Nothing is ever that simple though. Janny is going through some family problems at the moment and until she can get past the hurt, Nik and Janny won't stand a chance.
I loved Nik as a hero. He knows what he wants and goes after it. He is literally her knight in shining armor. Janny is lucky to have a man like him.
Even though this is book 4 in the series, I had no trouble jumping into the story, as it can be read as a standalone. I will definitely go back and read the first 3 books when I get the chance.
I really enjoyed this story and anyone looking for a quick read with plenty of heat should give this book a read.
Book Info:

Publication: September, 8 2015 | Samhain Publishing, Ltd. | Under the Caribbean Sun #4
What's a little fantasy between strangers…
Bedded by the Bad Boy
When Dr. Janny Baird winds up on an Aleutian island, this good-girl is so far from home she's willing to indulge in a little fantasy – like hopping on the back of a stranger's motorcycle for one wild, erotic ride.
Taken by the Tycoon
Last night's stranger is barely recognizable in a suit, which leads to another fantasy night together where the very restrained doctor gives him total control.
Claimed by the Cowboy
Back home on the Caribbean island of Anguilla, Janny is stunned to find her fantasy has taken over her reality. Nik Hansen is literally a cowboy, staking a claim on the island, and on her
WARNING :: With a man like Nik Hansen, you're secret fantasies are not safe. He'll make them come true, one by one.