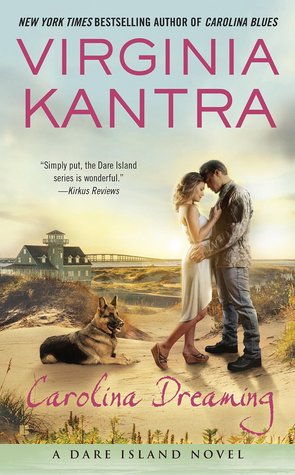 Carolina Dreaming by Virginia Kantra: Gabe decides to move to Dare Island in an attempt to get his life back on track. After serving multiple tours as a Marine and a brief stint in jail, he's looking for a fresh start. He makes the trip on foot and doesn't have much with him. Gabe is proud, brave, loyal, determined, and very protective.
Jane loves to bake and cook for others. She loves having her own bake shop, but she's worried about her pending competition in the form of business that will be opening fairly soon. She just wants to be a good mom to her son and have her planned expansion completed quickly.
Gabe is immediately attracted to the sexy bakery owner, but he plans to stay away from her for her own good. He appreciates that she helped him out on his first day in town, but he also makes it clear that repays his debts.
He… Well. Wow. She wasn't expecting that.
"You didn't have to do that."
He shrugged. "It's out front. On one of the tables."
"You can keep it."
His jaw set. "I don't take charity. And I pay my debts."
Jane already has one ex-husband serving jail time, so the last thing she needs is to become involved with someone else who looks like trouble. Except Gabe is honest and forthright. He gives of himself to make her life better. Jane can't exactly avoid Gabe either, as he found a job and seems to be making a life on the island. They have great chemistry and Gabe brings out a sassier, more assertive side to Jane.
He gave her a long look. "Just finishing what I started."
Her heart quivered.
"Really?" she asked sweetly. "Because I thought that wasn't happening?"
Carolina Dreaming is an endearing story of rebuilding your life. Virginia Kantra pulls the heartstrings with Gabe's story and how he continues to give while expecting the worst in return. Ms. Kantra created an interesting cast of secondary characters in this small town. Carolina Dreaming can be read as a standalone in the Dare Island series. Fans of Kimberly Lang and LuAnn McLane will enjoy Carolina Dreaming.

Book Info:

 February 2nd 2016 | Berkley | Dare Island #5
When it comes to love, anything can happen on Dare Island—especially in this latest novel from New York Times bestselling author Virginia Kantra.
After escaping a disastrous marriage, bakery owner Jane Clark has convinced herself that she has everything she needs—her precious son, a thriving business, and a roof over her head. But the arrival of a handsome stranger on the island shows her exactly what she's been missing…
The only home Gabe Murphy ever had was the Marine Corps. He's working hard to rebuild his life. It will take a special place, and a special woman, to make him want to stay.
Now Gabe is determined to prove that he's worthy of Jane's trust—and her love. But when her past reappears, that trust will be tested, and Jane and Gabe will have to fight hard to hold onto their love and make their dreams a reality…