Carrying a King's Child by Katherine Garbera: Emily Fielding had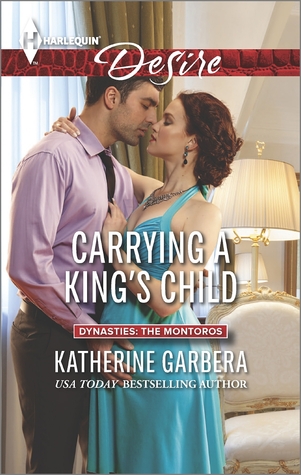 basically been on her own her whole life and that was okay. She knew her mother loved and respected her; she just had her own career and her own interests. Emily was fine tending bar and dreaming of opening her own restaurant. She was self sufficient and usually very careful, but as they say it only takes one time.
Rafael Montoro couldn't believe it, he as the CEO of a successful company and now he was destined to be King. Could he do it? Did he want to do it? Having everything up in the air was not his style. Then there was a weekend and a girl, why couldn't he get them out of his mind?
When Emily showed up in Rafael's bedroom to tell him he was going to be a dad everything changed. The future was even more up in the air. Between the press and the unknowns with taking over a country and running a company there were a lot of factors in this relationship and with an ocean in between would there be any way to resolve the future?
WOW, Ms. Garbera has continued the Montoro series with this novel in a great manner, though this can be read as a standalone. The characters are well developed, the descriptions are so clear and the plot isn't standardized at all. This is a book that is about two people who have a lot going on but when they find themselves falling for each other they try and look beyond themselves to what is best for the other. That's the kind of love you don't see often and Ms. Garbera has really done an amazing job to make people see and understand what that means. So to everyone who reads this partner, I'm sorry but Ms. Garbera just made your life more difficult. ☺
Book Info:

Publication: June 2nd 2015 | Harlequin | Dynasties: The Montoros #2
One night leads to the pregnancy surprise of a lifetime in this novel from USA TODAY bestselling author Katherine Garbera…
Tapped to become king of his family's ancestral homeland, hotshot Miami businessman Rafe Montoro needs a break from the pressure. A night with Key West bartender Emily Fielding is just the ticket—until weeks later, when she shows up pregnant!
Emily wants her child to know its father, though as an "unsuitable commoner," she doesn't want to block Rafe's ascent to the throne. Still, there's that unrelenting chemistry between them that won't be denied. Will Rafe have to choose between love and country after all?