Carrying His Secret (The Adair Affairs #1) by Marie Ferrarella: Elizabeth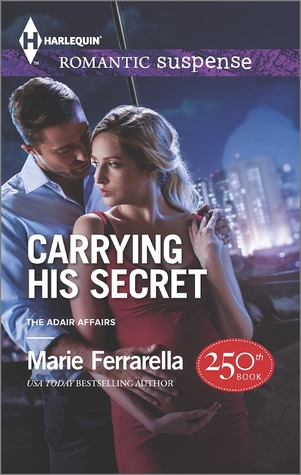 Shelto is dedicated to her career and loved working for her larger-than-life boss. Elizabeth never imagines that simply returning to work to pick up paperwork she left behind would lead to being named as a person of interest in her boss' murder. Whit Adair is shocked to learn of both his father's murder and that Elizabeth is considered to be a suspect. He immediately rides to her rescue.
Elizabeth immediately steps in to help Whit with funeral preparations and the company. She needs to keep busy as a way to deal with the shock of the murder and recently learning of her own pregnancy. While Whit appreciates her help, he's trying to keep his distance. He's not comfortable to the way she makes him feel when he was raised to contain his emotions. They've been dancing around each other, and their attraction, for years.
Immediately after the murder, Elizabeth finds odd occurrences, like objects not in quite the right place. Despite the gravity of the situation, there are moments of humor.
"I don't know," Whit answered, frustrated and exasperated with both himself and what was going on. He didn't like not being in control of things. "Maybe this guy didn't read the homicidal maniac's handbook on proper procedure and doesn't know what makes a good souvenir and what doesn't."
Whit steps in to protect her when things escalate. Whit is concerned for her safety and persuades Elizabeth to stay with him for her own safety. Staying with Whit is complicated enough, especially when he learns of Elizabeth's pregnancy.
Whit was far from convinced. "Well, I don't want to take a chance that you're wrong. Look at it this way. If you're right, you spend some time at a place that a lot of people would kill to be invited to. If I'm right, we're foiling someone's plan to murder you. Not being murdered is always a good thing," he told her wryly. "Try to think of it as a vacation," he urged, then asked her, "When's the last time you had a real vacation?"
Carrying His Secret is filled with a romance between two people who are reluctant to acknowledge their feelings and suspense as they try to keep Elizabeth safe. Marie Ferrarella set up an intriguing plot that keeps you guessing along with Whit and Elizabeth. Ms. Ferrarella had a good balance between the suspense, romance, and Adair family dynamics. Carrying His Secret would be an enjoyable read for those who appreciate the tension and anticipation in romance with plenty of family drama.
Book Info:

Published February 3rd 2015 by Harlequin Romantic Suspense Series #1835 | (The Adair Affairs #1)
USA TODAY bestselling author Marie Ferrarella unearths more scintillating secrets of the Adair family in her 250th book!
When Elizabeth Shelton finds her boss murdered, her life is thrown into turmoil. But nothing shocks her more than learning she's pregnant by the man's son. She kept her attraction to mogul Whit Adair hidden for years before their one-night tryst—and now she must keep another secret…
When the killer targets her next, Whit goes from her one-time lover to her full-time bodyguard. Taking her to his ranch for safekeeping, Whit discovers the truth about the baby. He offers his protection, but Elizabeth wants more—his love. For his child and its mother, he'll do anything—even take down a murderer…