Carrying the Spaniard's Child by Jennie Lucas: Belle hated Santiago from their very first meeting. The rich, arrogant playboy scoffed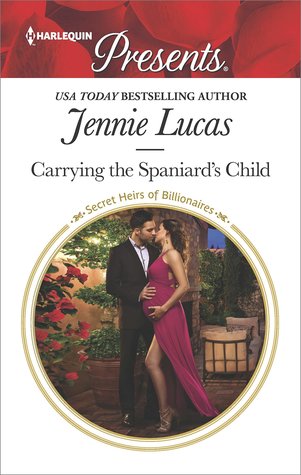 the very things that Belle wanted in life: love and a family. And Belle wasn't exactly shy about expressing her strong dislike of him either. Even though Santiago makes her uncomfortable with how strongly she's attracted to him, she isn't thrilled that they see each other on a regular basis despite moving in very different circles. Belle surprises herself when they end up having an unforgettable one-night stand.
Belle is hard-working, honest, loyal, and determined. She wanted to make it as an actress after giving up her dreams to raise her younger brothers. Santiago is a self-made billionaire and workaholic. He really has no desire to make room in his life for a committed relationship and doesn't trust love.
Belle is certainly surprised to find out she's expecting. And so is Santiago. Belle certain upended his carefully orchestrated and controlled world, but he returns the favor when he is rather insistent that marriage is their only option.
"I'll never marry you," she ground out, her brown eyes shooting sparks. "I'll never belong to you."
"You already do, Belle," he said flatly. "You just don't know it yet." Turning he made a quick gesture to his helicopter pilot, who started the engine.
She gave an incredulous laugh over the rising engine of the helicopter. "You're crazy!"
They initially get along like oil and water with their different views of the world and their priorities. Their relationship is held together by their chemistry and a desire to provide a better life and family for their child than what either of them had. Belle continues to challenge him by her openness and honesty about him and their relationship. Living together also provides good opportunities to actually get to know each other.
"You could have bought me fake ones, you know. No one would have been able to tell the difference, least of all me. Big waste of money."
"You really are terrible at being a gold-digger."
"I know," she agreed. She looked down at her ring. "It's beautiful, but it makes me feel guilty. This ring could have probably bought a car."
Carrying the Spaniard's Child is a sexy and angst-fueled opposites attract romance. Jennie Lucas developed strong, independent characters with good conflict. Fans of Maureen Child and Joanne Rock will enjoy Carrying the Spaniard's Child.

Book Info:
Kim| 4 Stars | Nope! | No |
Publication: Expected publication: July 18th 2017 | Harlequin Presents | Secret Heirs of Billionaires #10
There can be no resistance…only surrender!
Waitress Belle Langtry's night of no regrets with ruthless playboy Santiago Velazquez was never meant to be more than a sinfully sweet memory. Until fate has other plans, and Belle finds herself carrying the baby she never thought possible!
Santiago has long rejected all notions of fatherhood, so Belle's news is shocking. He might refuse to trust her, but Santiago won't let Belle escape his claim–to her or their child! His plan? To bind Belle with his ring, and keep her in thrall to him with his touch!