In Casually Cursed (Southern Witch #5) by Kimberly Frost, Tammy Jo Trask's life as a witch in Duvall, Texas has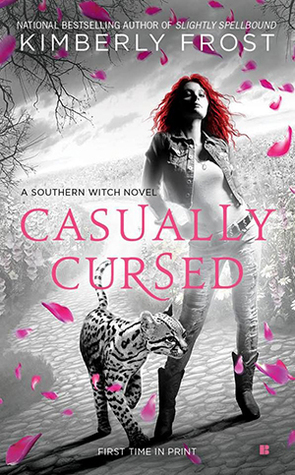 never been boring. Between her great-aunt Edie who is a ghost, her momma Marlee and her aunt Melanie, both also witches, and her feline sidekick Mercutio the ocelot, Tammy Jo has had lots of love and support in her life. But now her mother is being held against her will in Never by an evil Seelie queen. To top it off, she just met her twin sister Kismet–whom she had never met before or knew anything about. Can life get any more complicated?
'We were being chased by Conclave operatives, and if we managed to escape them, we were going out of the frying pan into the fire in the form of the Never. The last thing I should be doing was smiling, but when you've got friends and family close at your side, things don't feel as bad.'
Tammy Jo and her crew of family and friends begin their journey to find the path to Never to rescue her mother. But between the members of the World Association of Magic not trusting them and different supernatural beings after them, everyone must band together if they want to survive. Tammy Jo hopes that along the way she won't lose her new-found kinship with Kismet or damage her relationship with her fiance, lawyer and wizard, Bryn Lyons.
"You're the craziest sane person I know, to tie yourself to a woman who is on the most-wanted list of so many scary supernatural creatures. You should've gotten engaged to a nice lady lawyer with no magic at all."
Casually Cursed is a lively paranormal romance that hits us with some serious Southern charm while piling on the action and sassy comebacks.
I had such a good time getting to know Tammy Jo, Bryn, Mercutio, and the rest of the crew in this novel. The dynamics between the characters were so interesting, trying to figure out who was on the level and who might have had their own agenda. It did take me a little bit of reading before I figured out the world author Kimberly Frost created for us, as it's so well detailed and intricate. But once I had it down, I loved all the creatures and the way they were all woven into the storyline.
Tammy Jo was a riot. She was a witch who wasn't really the best at using magic, but could cook and bake better from memory than most people could with a recipe. She was recently engaged to sweetheart Bryn but still had some trouble letting her ex-husband Zach go. It created a bit of a love triangle which amped up the tension between everyone on their trip, making things more difficult. I did love Tammy Jo's feistiness and commiserated in her ability to say the wrong things and stick her foot in her mouth. Her family members all had that same issue to a certain extent, now that I think about it. 😉
If you love paranormal stories that will make you chuckle and keep you glued to the pages, Casually Cursed might just be for you. Plus…check out that fabulous book cover! I have never had so many people ask me what I was reading until I had this print book in my hand!
Book Info:

Published February 3rd 2015 by Berkley | (Southern Witch #5)
From the national bestselling author of Slightly Spellbound comes the latest Southern Witch novel featuring Tammy Jo Trask.
Tammy Jo rarely sets a toe outside Texas, but when she learns her mother is in trouble, Tammy is determined to save her—even if it means going to hell and back…
Fresh off her engagement to wizard Bryn Lyons, Tammy Jo is surprised to make another new family connection when she meets the twin sister she never knew she had. After being spirited away to the fae kingdom of Never as an infant, Kismet has finally escaped, and arrived in Duvall, Texas, with some terrible news: their mother, Marlee, is a prisoner of the Seelie fae.
Crossing the ocean to battle the fae isn't Tammy Jo's idea of a romantic getaway, but Bryn refuses to let her go alone—as do her aunt Edie and her ex-husband Zach. Unfortunately, their plot to free Marlee is foiled when they are caught by the fae queen. And the only chance the queen gives them to save Marlee's life may be an impossible quest…