Catching Carly by Emma Hart: I was snorting with laughter while reading Emma Hart's Catching Carly, and I think you will too. It's a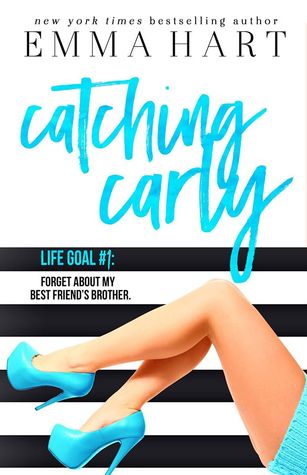 fun and flirty frenemies-to-lovers romance that is sure to amuse and entertain you from beginning to end. Catching Carly is the second book in the Barley Cross series, but all the books are stand-alones and do not need to be read in order.
Carly is a hilarious, self-depreciating twenty-five-year-old with a dry wit and sarcastic view on life, and she's especially cynical about dating and relationships. Online dating is introducing her to catfishing duds, and her two best friends recently found love with each other making her the third wheel. She has a contentious relationship with one of those best friend's older brother, Zeke Elliott, that gets complicated after they have a hot one night stand.
She and Zeke have always rubbed each other the wrong way, and they like to push each other's buttons with acerbic barbs, otherwise known as flirting. Carly thinks he is a playboy, but she is still – reluctantly – very attracted to him. After their one night of amazing sex, she's having a hard time remembering why she doesn't like him. Of course, he continues to (purposely) bait her, and they continue to indulge in verbal warfare.
Zeke starts to confuse Carly when he sends mixed signals that imply he wants more with her, but he is also very guarded because he had his heart broken a few years ago. It is obvious he likes Carly, but he's reluctant to have a relationship with her. They both have their guards up and both struggle to drop their defenses.
Catching Carly is told exclusively through Carly's point of view; therefore, you get to know her (and love her) far better than you do Zeke. Sometimes I missed not hearing his voice, but I am so enamored with Carly that I got over that disappointment fast. She's the type of girl you'd love to be friends with, and you feel like you know her by the end of the book. The banter between her and Zeke is fun, and the sexual tension between them simmers. Ms. Hart writes great love scenes, and they'll definitely fog up your Kindle. You'll laugh at Carly and Zeke's antics while rooting for them to take a chance on love and snag their happily ever after. Catching Carly is a heartfelt, comedic delight that should be added to your to-be-read pile as soon as possible.

Book Info:

Publication: 3/2/17 | Self-Published – Emma Hart | Barley Cross #2
Life Goal #1: Forget about my best friend's brother. (Because Zeke Elliott is a colossal cockwomble.)
From New York Times bestselling author, Emma Hart, comes another hilariously wild romantic comedy about being the third wheel in your friendship and, um, accidentally having sex with your best friend's brother…