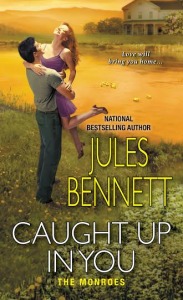 Caught Up In You by Jules Bennett: Braxton is hoping that he can keep the peace between his brothers long enough to get the women's resort and spa up and running. After a rough childhood, he has taken on the role of peacemaker. Braxton is sexy, charming, loyal, and smart. Maybe one day he'll look for a relationship like his brother has found, but he was betrayed by his now ex-fiancée and refuses to date.
Cora is looking to more firmly establish her independence. She's been relearning how to do everything in her life and made big changes after she became blind. She is looking for space and distance from her high-powered parents and their need to control her future. Cora has found a measure of peace in her newer career as a masseuse and loves the idea of working at a spa geared towards women.
Braxton could kill his brothers for nominating him to interview a potential masseuse. Cora isn't at all what he expected and he finds that her magical hands work wonders. He's even more surprised to learn that she's blind. Cora has a set path that she's looking to follow. Establishing herself at the resort and learning her new home, worksite, and small town will take some time with the help of her best friend, faithful companion, and dog. She has no time for romance, especially with Braxton who would be her boss.
"Don't worry about crossing the line. There is no line."
A slight gasp escaped her. "Braxton-"
"I meant in the professional setting." From this viewpoint her wide eyes were even more vibrant with dark purple rims. "There is a line personally, but we've already crossed it."
But neither Cora nor Braxton can entirely disregard the chemistry that seems to always draw them together. It doesn't help that Braxton has been kind, generous, thoughtful, and very willing to consider her needs. They connect on a deeper level as Braxton works to ensure he wins her trust. Braxton has learned to be stubborn after growing up with his hard-headed brothers, but Cora is just as stubborn as she asserts her hard-won independence.
"I'm fine and you're not getting up," she replied easily. "We'll make this work. I just need you to not be so stubborn for a few minutes and let me help your back."
"You had Sophie bring you so you could give me a massage?" he asked. "Honey, as much as I love your hands on me, you didn't need to go to so much trouble."
Caught Up In You is a sweet and heartwarming love story. Jules Bennett developed strong-willed characters who challenge each other. Ms. Bennett created a memorable and unique family dynamic that I can't wait to see play out in the next book for Braxton's brother Liam. Fans of Katie Graykowski, Laura Drewry, and Lisa Bingham will enjoy Caught Up In You.

Book Info:

 Expected publication: November 29th 2016 | Zebra | The Monroes #2
The Monroe brothers have their differences, but one project unites them: turning an antebellum mansion in their Haven, Georgia, hometown into a peaceful spa. It was the dream of their late sister—and it's about to set off a major renovation in the life of middle brother Braxton…
Braxton Monroe's taking a break from teaching to do some strenuous work on a Civil War–era house, and feeling the strain in every rock-hard muscle. Good thing he has to interview massage therapists for the spa—even if it's embarrassing to meet a job candidate in his boxers. Cora Buchanan has hands so talented—and a voice so sultry—he wants to hire her before he even lifts his head from the table. But he's shocked to meet her outside the massage room—with her seeing-eye dog, Heidi the yellow lab.
Cora has left her family—and fiancé—in Atlanta to make her way in this small town. All her parents' money can't restore her sight, but it's up to her to restore her independence. Though she bristles at Braxton's protectiveness, she too feels lingering effects from their intimate touch. Now that he's her boss, it's strictly hands-off….Until a secret she's keeping destroys his fragile trust, and they must find the courage to knock down the walls between them.