Change of Heart by T.J. Kline is full of strong emotions that will grip you by the heart and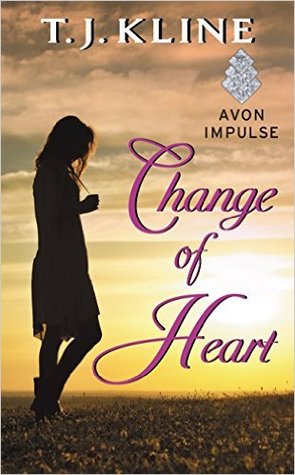 make you hope a happy ending is the cards. It was touch and go there for a few a while, but a happy ending is exactly what we get. The characters just have to work for it!
Leah McCarran is the new therapist at Heart Fire Ranch and even though she's landed this incredible opportunity, her bad luck seems to follow her wherever she goes. The story starts off with her car breaking down and her not having enough money to get it fixed. Don't worry, Gage Granger, is in town and offers her a ride and pays to have it fixed. A wealthy and sexy man wanting to save the day sounds like heaven, but not to Leah. Too bad for her though, because Gage and Leah will be neighbors until he leaves town.
Leah has a lot of problems. She got the raw end of a stick growing up and her mother is someone I would love to meet in a dark alley. I guarantee no one would miss her. Because of her mother and the choices she made on behalf of Leah, Leah is now afraid of men and I don't blame her one bit. I will say that it took me a while to warm up to Leah. She comes off as independent but also rude and hateful, at least towards Gage. Once she spills the beans on why she acts this way, it all makes sense.
Gage has been nothing but nice to Leah. He paid for her car to be towed and then fixed. He paid for her groceries and acted like a complete gentlemen and all he gets for his good deeds is a pissed off neighbor. Gage shouldn't be worrying about Leah, not with his job on the line, his company is trouble, and not knowing if he has to lay off four hundred of his faithful employees. But even though he has his own problems he wants to be there for Leah.
If you're expecting an instant love connection, you're reading the wrong book. Leah and Gage are a slow burn and trust me, it's needed! Once Leah owns up to her emotions and listens to heart, things with Gage move forward. As for Gage, once he takes responsibility for his part in his company's downfall, only then can he truly be the man Leah needs.
"Leah realized she'd been right about two things: his lips were as soft as they looked, and Gage was safe. Instead of making her feel good, that only made her more afraid. Safe meant she would be more likely to let down her guard. Safe meant he could break down the walls she'd built. Safe mean, for the first time, her heart was in danger."
Overall Change of Heart is an enjoyable read, which contains complex characters who need to overcome their situations to get to their happy ending. This is book five in the series, but can certainly be read as a standalone. I, however, recommend readers read the whole series because each book is amazing and worth the read.

Book Info:

Publication: May 10th 2016 | Avon Impulse | Healing Hearts #5
Bad luck has plagued Leah McCarran most of her life, until the tide turns and she lands her new dream job as a therapist at Heart Fire Ranch. But when her car breaks down and she finds herself stranded, the playboy who shows up to her rescue makes Leah wonder if her luck just went from bad to worse.
Gage Granger has risen above the circumstances of his youth, enough that people now believe he has the Midas touch, especially in business. But when one mistake suddenly threatens everything he's built, he takes some time to visit family near Heart Fire and figure a way out of the mess. The last thing he expects to find is a feisty therapist who needs his help, even if she won't admit it.
Leah learned a long time ago that other people will always let her down. She doesn't want that kind of hurt again, but Gage isn't giving up. And finding out he's staying next door isn't going to make it any easier to avoid the kind man who is set on changing her heart.