In Chased by Love (The Ryders #3) by Melissa Foster, Trish Ryder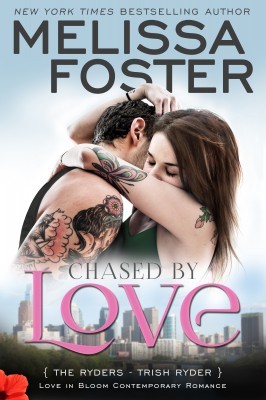 will do anything to help Boone Stryker — the amazing singer playing the lead actor role in the movie they're shooting together — overcome his anxiety to some of the scenes. So, when they're forced to spend ten days together alone, Trish knows she's going to have to get creative, especially if she wants Boone to open up about what's holding him back. Can she find a way to help Boone and make him realize that letting go of the past and focusing on the future can be the best thing that's ever happened to the both of them?
"It's midnight and you have to be on set in seven hours," her best friend, Fiona, reminded her. "You're the star, so yes. Get your ass over there and pull a diva."
Trish stopped cold. " But I'm not a diva!"
"Of course not, but you know that's what his groupies will think, which you do not care about. Right?"
Have you ever had a book where you're cheering for the hero or heroine because of something they're about to do that they wouldn't normally do? Well, right from the beginning, this book was thoroughly entertaining, fast-paced and I was cheering for Trish to cause a major scene with Boone's groupies and voice her opinion on what she really thinks of his lifestyle as a famed rocker. She's so dedicated to her craft, and she will do anything to make the movie they're shooting together a success, even if she has to use her 'I'll-make-you-see-reason-if-it's-the-last-thing-I-do' attitude.
As for the dialogue, it was intense due to the main characters back stories, especially that of the hero. He can't seem to say no to taking care of his friends and family because of the guilt he's felt due to the death of his father as well as a close friend. No way is he going to let anyone down again, not if he can help it. However, there were also some light-hearted moments between the main characters and their families as well as Boone and Trish that had me smiling or laughing. Boone needs to learn how to relax and have someone take care of him for a while, and that's why Trish is a good match for him because she does just that.
"Okay, you should really stop checking out my crotch."
"You wish." She waved her finger toward the kitty. "I've seen what you have down there, remember?"
"Yeah, and I also remember the rather impressed look in your eyes when you got an eyeful."
"You're incorrigible."
"Encourage me, baby."
I really loved Boone. He's been through so much in his life, and I could sympathize with his reasons for not being able to cope with the some of the scenes he and Trish were shooting. Because the role Trish was playing reminded him of a close friend he lost, and is still haunted by the death of. Why wasn't there any way to save her? Moreover, there are so many reasons to like the hero. He's kind, caring, honorable and I liked how he reveals the true Boone Stryker to Trish. He's nothing like his rock star persona, which is misleading to keep people out of his private life. But most of all, I liked how determined he was to play his part in the movie and get the emotions and reactions of his character right. No way was he going to keep letting Trish down, not after all that she does for him by getting him to open up about his past; a past he definitely needs to talk to someone about.
While Trish, she's hard-working, kind, and I liked how determined she was to make Boone realize that he has what it takes to pull of the role he was playing. She provides quite the adventure for Boone, especially with a couple of little white lies that help take his mind of his role when the role gets too tough for him to play at times; times when they're just practicing. Honestly, I enjoy how Trish pushed Boone to open up. She was a good listener and offered support when he needed it. No way was he going to continue to have to look after everyone in his life that he does without her.
Trish burst into hysterics. "Don't kill me."
"Oh, I'm going to kill you, all right. Pregnant?" He set her on the hood of the car and kissed her hard. "Pregnant?"
Laughter burst from her mouth. "At least I said were were married instead of saying you were my brother or something."
"Brother?" He laughed. "You're insane, and pushy, and you put me in a really difficult position. I should hate you, but…" His eyes heated. "Do you have any idea how much I like you?"
Overall, this was a really good book where the sex scenes were hot and did justice to this couple's intense chemistry. Boone isn't sure that getting involved with Trish is the right thing to do, not when he already worries about too many people in his life, yet there's no denying their attraction. The way this story ended with the epilogue was delightful, and had me cheering for this couple's happiness. Trish's family is really tight knit and her brothers are extremely protective of her. Actually, it was funny how Boone handled them as well as some of the people on the set when it came to his and Trish's relationship. It showed how much he loved her. I would recommend Chased by Love by Melissa Foster, if you enjoy a well-written story with characters willing to fight for their happiness, even if it means facing some tough challenges such as proving to the heroine's family how much she's loved.
Book Info:

Publication: August 17th, 2016 | World Literary Press | The Ryders #3
Actress Trish Ryder takes her job seriously and has no time for those who don't. When she's awarded a major role in a new movie featuring America's hottest rock star, Boone Stryker, she's beyond excited. The six-two, tattooed hunk of burning desire is known for his dedication to his craft–but when he ditches their first meeting, she begins to wonder if he's just another rocker with a great PR team.
Sex, booze, women, and music pretty much sum up Boone Stryker's private world. He's coasted through life playing by his own rules with plenty of people willing to cover his tracks, and he's not likely to change–until he meets a woman who refuses to give him the time of day, much less anything more.
Sparks fly from the first moment Trish and Boone meet–Tensions run hot and desire runs hotter when they're trapped together on a remote location with no place to hide. Will sparks ignite, or will a hurricane douse the flames?