Chasing a Legend by Sarah Robinson is book four in the Kavanagh Legends series, but can definitely be read as a standalone. I haven't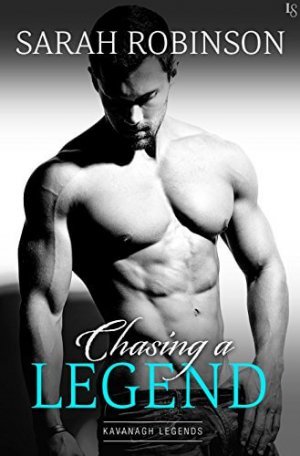 read the previous books, but had no problem falling in love with this one. I am so impressed with Chasing a Legend, that I had to immediately buy the first three books. Now, I just need to find the time to read them.
Quinn Kavanagh was injured in a motorcycle accident. He's lucky to be alive, but is struggling to walk again. When he shows up for flotation therapy, he sees Kiera Finley, his former best friend. Kiera is his new physical therapist and to say things are a little rocky between them…is putting it lightly. Six years ago, Quinn and Kiera had a moment of passion, but she left and broke his heart. They both have different views from that night, though.
In the beginning their sessions together were cold and distant, but that doesn't last long. In fact, it just takes one trip to Quinn's secret studio for them to start to communicating again, as friends…and maybe even more. One thing that hasn't changed in the years they've been apart, is their love for each other. The type of love that refuses to quit and makes you into a better person. As Kiera pushes Quinn to do more about his art, will a new opportunity tear them apart again?
Kiera was a fantastic heroine. She rolled with the punches, so to speak. Whenever something didn't go her way, she didn't hide away. She was there for Quinn when he needed her. Their banter was easy going and you could tell how familiar they were with each other, even after years apart. As for Quinn, I loved him. Everything about him. Although, towards the end, I wanted to shake him…but don't worry, he makes it right.
I enjoyed the dialogue and loved the characters. Their chemistry didn't feel forced or fake. Almost, as if they were made for each other. The Kavanagh family as a whole is so much fun and the type of family I wished I had. The kind that is there for each other no matter what and comes together to support you, when you need it. If you enjoy the friends to lovers trope or adore second chance romances, this is the book for you. Highly recommended.

Book Info:

Publication: August 22nd 2017 | Loveswept | Kavanagh Legends #4
A topnotch manager and agent, Quinn Kavanagh pictures a life outside of his family's renowned MMA gym. Beneath his sleek exterior, Quinn has a secret passion for sculpting. But after a nearly fatal motorcycle accident, he's struggling just to walk again, let alone get back to the studio—and it doesn't help that the doctor in charge of his physical therapy is his childhood crush. Quinn's always ready for a fight, but the bittersweet sting of unrequited love has him begging for mercy.
Dr. Kiera Finley is determined to make her medical residency a success. Six years ago, she gave in and shared a single passionate night with Quinn. Now she's just hoping the cocky lover from her past doesn't derail her plans for the future. Little by little, though, Kiera gets to know another side of Quinn. She knew he was a family man, devoted to his parents and brothers, but he's also a free spirit trapped in a cage—and only she has the key. To heal both Quinn's body and soul, Kiera's tempted to give him a special kind of medicine.