Chasing Claire (Hells Saints Motorcycle Club #2) by Paula Marinaro is an intense books involving guns, a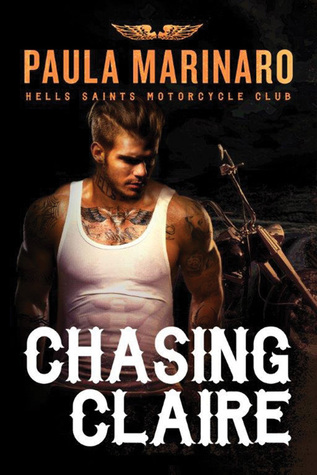 motor cycle club, love, family, friendship and loyalty. I really enjoyed this book and the characters, situations, and drama had me glued to the pages from beginning to end. 
Claire and Reno just has a chemistry that clicked from the start. Even after being apart for months, it is obvious that they still have feelings for each other. Yes, Reno acts kind of like a ass, but in the end, is the rock that Claire needs. He helps her with her struggles, he supports her decisions, he helps her work through her nightmares and her fears. He is the soft place for her to land. Claire is supportive of Reno too. When things get bad, Claire really steps up and helps hold things together. The love and support that they both got from their families was heartfelt. There are some very scary moments, some very intense moments, but in the end love wins the day.
There is a lot of detail in this book, back story on both Claire, Reno, and their friends and family. I did not read book one in this series, but was able to follow the story, everything was explained, no cliff hangers and I never felt lost, That said, I did go back and get book 1 and I have every intention of reading is because this series is intense.
Chasing Claire by Paula Marinaro sets the stage for more books to come. I truly enjoyed reading this book and look forward to more from this amazing author and from this amazing series.
Book Info:

March 17th 2015 by Montlake Romance | (Hells Saints Motorcycle Club #2)
Claire Winston knows she's lucky to be alive—and even luckier to have the love and protection of a man like Prosper, her adoptive father and leader of the Hells Saints Motorcycle Club. Yet, try as she may, she can't leave yesterday behind. She's still haunted by Reno, the bad-boy biker her heart loves but her spirit fears. And she can't seem to escape the terrifying memories of a night filled with blood, bullets, and brutality.
Hells Saints soldier Reno has tried everything with liquor and lace to get Claire off his mind. But he just can't forget her freckles, her fierce fragility, and her tender heart. He knows he's the only man who can give her the love she truly deserves.
As Claire and Reno spiral back into each other's lives, they wonder if happiness is finally in their cards. But when violence once again explodes around them, Claire must decide if she really can trust Reno and commit to life with him—or if she'll stay chained to her past forever.