Christmas, Alabama (Alabama #4) by Susan Sands is a sweet addition to the the Alabama Series. I have read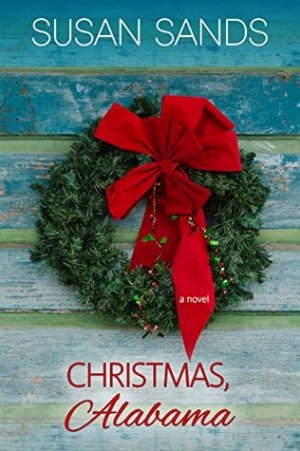 every book in this series and I love getting to come back to Ministry, Alabama to visit with old friends that feel more like family than just characters in a book. This is the beautiful Christmas story of Rachel and Nick.
Rachel Prudhomme moved to Ministry, Alabama to be closer to her sister and her mother. She has a lot of trust issues given that her father lied to his family and ended up in prison, given that her sisters first husband was awful as well. She has a hard time trusting men, trusting that they are honest, that they will not let her down, and that includes the new doctor in town, and her new neighbor, the doctor who she can't seem to get out of her mind, Dr. Nicholas Sullivan.
Nick Sullivan wants to be anywhere but Ministry, Alabama. It is as far from civilization as he could get. But when he is the only doctor that can be spared to go he bucks up and heads down. What Nick did not count on is that the slower pace, the more personal touch and the people of Ministry would grow on him. And he did not count on Rachel being such a breath of fresh air.
As Nick and Rachel start spending time together, their feelings for one another start to grow stronger. But Rachel knows that she cannot ask Nick to give up his dream, and Nick knows that he needs to make a grand gesture so that Rachel will know that she is the reason that he wants to stay. When a snowstorm on Christmas Eve strands Nick and his crew, and to accident victims, Rachel will move heaven and earth to make sure that the man that she has grown to love makes it home safe to her, but is just might take a Christmas Miracle.
What I loved about Nick and Rachel is that they had a lot in common. They were both family oriented and despite what Rachel might think, Nick truly did fall in love with Ministry. I loved that Nick and Rachel both knew that they loved each other, but Nick also knew that Rachel had trust issues, and who could blame her. He needed to prove to her that she was the reason for his everything, and that he was not giving up anything by staying in Ministry, he was gaining the world. Love love love this series and would highly recommend this story to anyone that truly believes in Christmas Miracles.

Book Info:

Publication: October 26th 2017 | Tule Publishing | Alabama series #4
Photographer Rachel Prudhomme has finally settled in Ministry, Alabama. Sure, the pace is slower, and she's had her heart blessed more times than she can count, but putting down her roots where her family is feels right, if only the town's new doctor and now neighbor weren't so hot and constantly igniting her dreams. How can she keep her vow to steer clear of men when he keeps sauntering across her path?
For Dr. Nicholas Sullivan to get his dream job in Atlanta, he must fill in at Ministry General, where they're short staffed for the holidays. He never expects to fall for his beautiful next door neighbor, Rachel.
Soon, Nick and Rachael make a deal. They'll pretend to date so Rachael can avoid the scrutiny from her family to "find a good man" and Nick can avoid the single lovelies in town who take his short stay as a challenge. Amidst the carolers, Christmas lights, and an unlikely Alabama snowstorm, Nick and Rachel can't help but notice the powerful emotional and physical attraction between them. Will a Christmas miracle be all it takes to make all of their dreams come true?