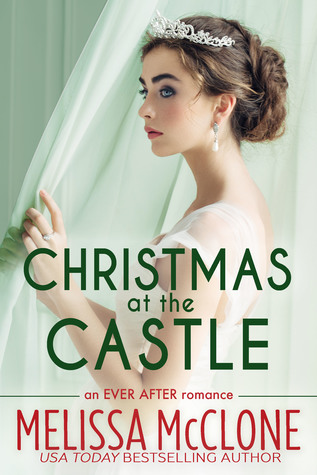 Christmas at the Castle by Melissa McClone: Bridesmaid for her best friend's wedding, a friend who just happens to be the princess of a small European country, Kat is beyond excited to finally see her friend's country and help her get married to the love of her life. The only thing that could make it perfect was if her friend's rude older brother and Crown Prince Gill would stay away.
Gill has never liked or trusted Kat. And now that she's in the midst of a royal wedding, both he and the queen believe her to be on the hunt for her own rich and royal husband. Gill will do whatever he has to to make sure his sister's wedding goes off without a hitch, which just happens to mean keeping a close eye on Kat.
Except, the more he gets to know her, the more he sees she isn't hiding anything. In fact, it turns out Gill might just be falling for the commoner. Except duty tells him Kat can never be anything to him, leaving him to choose between his heart and what he's been taught all his life.
One thing had stayed the same. Her wide blue eyes still pierced him to his core.
Christmas at the Castle is sweet as hell and cute. A fun, wintry, Christmassy story with a confident heroine and a hero who has no idea what's about to hit him as he prepares for his sister's wedding. Gill is the perfect amount of Princely arrogance and sweetness, although I do wish he stood up to his mother, the queen, for Kat a bit more. By the end, especially, I feel he wasn't being the hero I wanted when it came to putting Kat first – although, he does make the ultimate gesture when it comes to winning his love.
This story isn't sexy passion, but this is a strong couple. I loved seeing their attraction grow into love and trusting in their HEA, that's always the best feeling one can get from a romance. The world, too, was darling, with picturesque European winter towns and, of course, a castle. The bride, I loved, and I definitely want to read her story – I know I'm going to search for McClone's other works! The queen, however, got on my nerves. I kept being told how she just wanted the best for her children, but she was too unlikeable no matter how much it was explained away.
Overall, I highly enjoyed Christmas at the Castle and recommend it for any sweet, Christmas romance lover. It kept a great balance between the romance and the side storylines, keeping me wanting more from both.

Book Info:

 October 18, 2016 | Tule Publishing Group | Ever After
A royal wedding. A meddlesome mother. An unexpected union.
A European getaway during the Christmas holiday is exactly what veterinarian Katrina "Kat" Parsons needs. She can't wait to be a bridesmaid in her childhood friend's royal wedding, but she hopes to steer clear of the bride's arrogant older brother.
Crown Prince Guillaume wants his younger sister's wedding day to be perfect, but he's suspicious of Kat. He and his mother on are on high alert, afraid Kat is not just there for the wedding, but also to find a prince of her own.
But when Kat's kindness and generosity prove them wrong, the prince realizes there's more to her than he ever imagined. Can he trust his heart or will he lose the one woman he can't live without?