In Christmas at Twilight (Twilight, Texas #5) by Lori Wilde, Meredith Sommers never imagined there was a town as lovely and charming as Twilight, Texas. It makes her wish she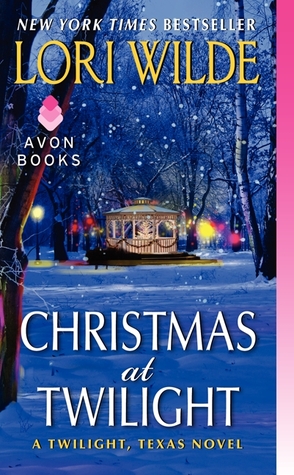 and her four year old son Ben could stay and put down roots. But when you're on the run from your past, that's just not an option. So when her roommate Ashley Hutchinson suddenly takes off and leaves Meredith with Ashley's four year old, Kimmie, she has no choice but to stick around at least through Christmas. Then Ashley's brother shows up unexpectedly. Instead of being scared by the ex-Army special forces hunk, Meredith feels a longing that is completely new to her. With her past catching up to her a strong possibility, she needs to decide if she should cut and run now or believe that Hutch will protect her and Ben.
" We have a dicey living situation. In the interest of avoiding trouble, you don't touch me. I don't touch you. Ever."
His eyes narrowed teasingly and she could see his mental wheels turning.
"Not ever," she reiterated. "If I have a heart attack, go next door and get someone else to do CPR on me."
Amusement plucked the corners of his mouth.
Delta Force Operator Brian Hutchinson has been forced to leave the Army due to his medical condition. After being ambushed and losing his team, Hutch is suffering from his own wounds, one of which is the inability to speak. That poses a problem when he encounters an unfamiliar female in his home when he arrives in Twilight. Hutch is inexplicably drawn to her but can't explain who he is to her. After a memorable altercation, they agree to remain in the house together to take care of Kimmie until Ashley returns. But Hutch is pretty sure Meredith is keeping secrets, and he wants more than anything to help her feel safe and stay put in Twilight. Will the skittish beauty allow him to get closer? Or will she take off into the night, leaving him brokenhearted?
'Everything he'd done had led him here with her, and nothing had ever felt so right. If Hutch lived to be two hundred years old, he would never forget this moment of stunned wonder.'
Christmas at Twilight is not your typical holiday romance. There certainly is a wonderful small town feeling, with the community pitching in for those in need. But this story goes much deeper, exploring darker subjects like mental illness and abuse while our main characters find acceptance and love.
The Twilight, Texas series is one that always makes me smile and sigh happily with its uber romantic tales. Hutch and Meredith's story is definitely as romantic as the rest, maybe more so where they bonded while dealing with traumatic events that had recently happened in their lives. This book had quite a bit of intrigue and action in it, too, which I really enjoyed. It kept the pace of the story zipping right along and I was basically speed-reading through to the end to find out how everything finished for this struggling couple.
Like I said before, there were some darker elements to this book that might possibly be a bit much for some, but I didn't think it clouded the overall plot. To me, the theme of the book was all about love: accepting and valuing yourself so you can find love, and then accepting and trusting the love you find with someone special. I really loved the bond that grew between Meredith and Hutch. They had to find a way to communicate where he couldn't talk after his injury overseas, so it made their connection seem very intimate and so sweet. And I liked that even though they had both been through some horrible situations and had been treated poorly in the past, they were very caring individuals who just wanted the best for their loved ones.
If you're looking for a super romantic holiday themed story with a bit of a twist, check out Christmas at Twilight. I think this standalone title will put a smile on your face with Hutch and Meredith's tender HEA.
Book Info:

Published October 28th 2014 by Avon | (Twilight, Texas #5)
It's Christmas in Twilight, Texas. The Cookie Club is baking, the town is decorated, and Delta Force Operator "Hutch" Hutchinson has finally, reluctantly, returned home . . .
. . . only to get pepper sprayed by the delicious- looking stranger who's taken over his house. She says her name is Jane, and she immediately sets down ground rules. Top priority: no touching. For Hutch that isn't easy—he was wounded in action, but one part is still working very well.
Then Hutch learns the truth. Jane harbors a frightening secret—she's really Meredith Sommers, on the run from a dangerous ex-husband and desperately in need of the safety Hutch can provide. In that moment, he vows he'd do anything in his power to protect her. And as Christmas approaches, they discover that their love can conquer the past and overcome any obstacle—but what price will they pay?