In Christmas Bride for the Sheikh (Ruthless Royal Sheikhs #2) by Carol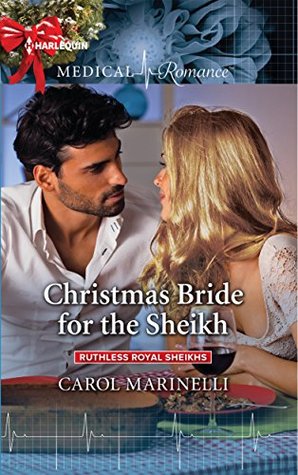 Marinelli , Florence 'Flo' Andrews would do anything for her best friend, but confronting and telling Sheikh Hazin al-Razim about the woman's pregnancy in hopes he'd inform his brother is asking a bit too much. However, never did she imagine she'd fall for the gorgeous man after spending the night with him and discovering that his playboy lifestyle is all a façade. Will she be able to convince Hazin that love is worth fighting for, or will she have her heart broken because he's afraid to give forever after another chance?
="You're wearing a robe," he said, and smiled. "It suits you."
"It's Maggie's," Flo admitted. "I might go to the souks and get some of my own as it feels a bit odd wearing her clothes. It didn't used to. We used to borrow each other's clothes all the time."
"So why is it awkward now?"
"I keep waiting for her to change." Flo sighed. "It's nothing to do with her and all to do with me. I'm just worried that we're going to grow apart."
I love stories encompassing royal heroes, and Ms. Marinelli has delivered an absolutely fantastic read in this book where the main characters face a tough battle to be together because of their personal demons; the dialogue was intense and riveting due to the main characters back stories, especially that of the hero as his family continue badgering him over his playboy ways, which is all a façade; and the storyline was fast-paced and kept me entertained from start to finish for many reasons. Would the heroine find a way to get through to the hero? Would the hero show up at his brother's wedding? Would he show up for a very important event that honors someone he once cared about? Would the hero realize that he loves Flo before it was too late? Would the hero finally be able to absolve himself of the guilt he's felt since losing his wife?
As for the main characters, it was the hero that made this story such a captivating read, as he's the spare to the heir and his family aren't exactly the warm and loving type, so I could understand why he has such a hard time returning home because all they do is judge him. Furthermore, the hero faces some tough obstacles throughout this story such as whether he can give happy ever after another chance; and whether he can face the past to do what everyone wants in honouring his late wife. Yet, I liked the choices he made because it's the only way he can be truly happy with his life. Certainly, he couldn't continue to go on the way he has with his parents and brother thinking he's nothing but a playboy and troublemaker and constantly giving him grief over what he does. Will he ever have a close relationship with his brother again?
While the heroine, she's kind, caring, passionate about her job and I liked that she would do anything for the people she cares about, especially her best friend. I also liked how determined she was to help and show the hero that there's someone that cares about him, which – it seems – is something he hasn't had for a while in his life. Will he let the heroine in? Will he realize Flo is the best person to come into his life in years before it's too late? Yet, what I liked most of all about the heroine is how she handles everything she goes through including the moment where she believes the hero will never give them a chance because he can't let go of the past. Is the hero's guilt too heavy to ever get over?
"I don't understand what happened, Hazin."
"Flo, I messed up…" he admitted. It had been the story of his life and Hazin was certain that no apology this time, however heartfelt, could fix it.
"You, really, really did," Flo said.
"I won't do it again."
"You might." She giggled. For Hazin, it was the most magical sound on earth, so much so that he peeled himself from her embrace and held her as he gazed upon forgiveness.
Overall, Ms. Marinelli has delivered a wonderful and heartfelt read in this book where the chemistry between this couple was strong and instantaneous the moment they met; and the ending left me completely satisfied and smiling because of what the hero does for the heroine to prove she's his Ms. Right. Certainly, Christmas is a special time for the heroine and being away from her family during such a holiday isn't easy, but at least the hero gives her a day she'll never forget. However, it was the epilogue that wrapped this story up perfectly, because of the surprise the heroine has for the hero. I would recommend Christmas Bride for the Sheikh by Carol Marinelli, if you enjoy second chance romances, the mysterious strangers trope, or books by authors Susan Stephens, Abby Green, Lynne Graham and Annie West.
Book Info:

Publication: December 1st, 2017 | Harlequin Medical | Ruthless Royal Sheikhs #2
His midwife under the mistletoe
This Christmas, midwife Flo is determined to avoid all mistletoe! Though she's a secret romantic, she's fed up with only kissing frogs. Until she meets notorious sheikh prince Hazin al-Razim and is enticed into the most sizzling night of her life…
Hazin hides a wealth of pain behind his playboy facade, and beautiful Flo is the first person to warm his frozen heart. So, when she's hired to deliver his brother's Christmas Eve baby, it's Hazin's chance to claim his own Christmas miracle—Flo as his bride!