In Christmas in Destiny (Destiny #7) by Toni Blake, Shane Dalton's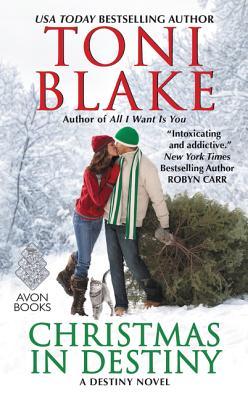 father's dying wish was for Shane to go to Destiny, Ohio; that there was "something waiting for him there". He has to admit to being mighty skeptical. But before moving to Miami, Shane drives to Destiny only to be stranded in a blizzard with his truck off the road. Spending the night at a stranger's house doesn't sound like a great idea. Until he meets Candice Sheridan, a beautiful but timid woman who doesn't trust him one iota. As Shane's stay in town gets extended, he finds out that oddly enough, he fits in rather well. And that just might change his plans for the future in a big way.
He spoke low and sexy in her ear. "So you're a good girl. That's what I thought. On Santa's nice list," he added with a chuckle.
"Not tonight," she promised him.
When sexy bad boy Shane showed up on Candice's doorstep in the middle of the night, she almost slammed the door in his face and left him to fight the blizzard on his own. She's already been torn to shreds emotionally by a bad boy and doesn't have it in her to try again. But her holiday spirit must have taken over as Candice allows Shane to stay. Her resolve starts to fall apart little by little as she watches him interact with the townsfolk and help out whenever needed. Could he truly be the good guy she sees underneath the tattoos and gruff exterior? Or is she just seeing what she wants to believe, once again?
'Time and experience had shown her that a good man was hard to find. And no matter what Shane thought, she knew in her heart that he was a good man, and she'd found him. And the only problem at all was knowing he was leaving.'
Christmas in Destiny was an absolutely charming, heartfelt–and surprisingly sexy–small town romance. Toni Blake always spins a tale that makes me chuckle and cheer on the down-to-earth characters she creates and this holiday-themed book did exactly that.
I have to say that I really loved the time I got to spend in Destiny, Ohio, in this book and of course with all of the offbeat people who reside there. I'm fairly new to the series (although I've read other books by Blake) but I found it quite easy to fall into the story. There were a lot of characters to keep track of, but Blake did a great job of weaving them in and explaining how they related to Candice and Shane's journey.
Shane and Candice were pretty much an opposites attract couple. She was the good girl in town who was rather reclusive after getting her heart broken a few years back, staying mainly at home with her rescue kitty Frosty. And Shane was the bad boy who hid a heart of gold. He'd had a rather tough childhood and didn't really believe he deserved a lot of good or anything easy to happen in his life. Watching both Candice and Shane open up emotionally together as a couple as well as in their own individual lives was great. They also had terrific chemistry between them and it made their flirty bantering really come alive. Very sexy, but sweet too.
It took some special secondary characters to push Shane and Candice along in the right direction a few times. Grampy in particular was a huge help for them and for everyone in town, really, as they banded together to make it a memorable holiday. And memorable it was, when the story came to a close and it was clear how everyone's lives intersected. I thought Blake included a nice amount of emotional depth and personal introspection (which works so well with a holiday book!) and it truly enhanced this story of finding love at any age.
Full of heart, the town's comical obsession with hot chocolate, and the wonders of seeing a community come together during the holidays, Christmas in Destiny will be the perfect addition to anyone's reading list. Highly recommended.
Book Info:

Publication: October 25th 2016 | Avon | Destiny #7
"Go to Destiny. There's something waiting there for you."
Shane Dalton's new life is waiting in Miami, complete with fast cars and faster women. But first, he's heeding his father's dying words and stopping off in Destiny, Ohio. The detour wasn't supposed to include a busted pickup and a blizzard. But Candice Sheridan, the cute redhead who reluctantly offers shelter, could prove a pleasant diversion. Trouble is, she thinks Shane's bad news. And he's pretty sure she's right . . .
Candice had her trust broken once before. Yet something about Shane won't let her stay away. By Christmas, he'll be gone. Until then, she's itching to stop playing nice and safe . . . and try being a little naughty for once.
As their holiday romance heats up, Shane uncovers a shattering secret and Candice is preparing to face heartache once again. But there's no better place than Destiny—especially at Christmastime—for two lost souls to find the gift of sweet, surprising love . . .