In Christmas in Dixie by Beth Albright, Rhonda Cartwright, one of the three original Sassy Belles, couldn't be more excited to be home in Tuscaloosa this Christmas. Her new business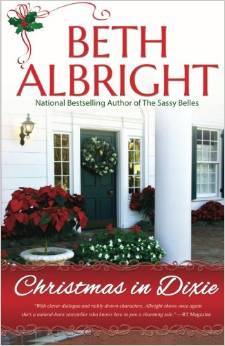 venture, turning her family home into the Southern Comforts Inn, is a labor of love for Rhonda, her family, and her close friends. While the preparations are coming along perfectly, someone from her boyfriend Jack Bennett's past makes her presence known, with intentions to crash the Inn's huge grand opening celebration.
'That Marci had no idea what she was fixin' to get hit with–Hurricane Sassy Belles.'
Rhonda feels so blessed to have Jack in her life again. They shared a memorable summer together as teenagers down by the creek in their hometown. Neither one of them ever got over their separation, carrying around those feelings of longing for almost twenty years. But now Jack's ex, Marci Miller, is trying to cause a wedge between them. Rhonda stands her ground with the help of her best friends Vivi and Blake. She has to believe that what she and Jake have together is strong enough to withstand his egocentric ex. Rhonda couldn't bear to lose him all over again.
"Feel that?" he asked as he pulled my hand directly over his heartbeat. "That is my heart…but you are what makes it beat."
The Sassy Belles are at it again! And this time they're showing us how to fall in love during the most joyous time of the year. Christmas gets a huge dose of Southern style in this fun novella.
'Forgiveness was a powerful thing. It was a gift that you gave yourself. The best Christmas gift I could have ever gotten.'
Author Beth Albright's Sassy Belles series makes me so very happy. As I've probably said before, reading any of these novels (or novellas) is like sitting down with an old friend, catching up over a glass of sweet tea. Christmas in Dixie is the next chapter in Rhonda's renewed life in Tuscaloosa, now that she and Jack have found their way back together after twenty years apart. Their reunion began in the previous full length novel, Magic in Dixie. You can feel free to read these titles independently, but I highly recommend checking out the entire series to share in all the fun antics that surround these lovely characters.
I really thought Rhonda and Jack's story was quite touching. They were a cute-as-a-button couple who were a perfect match for each other. They were flirty and had a good time together but they also knew that what they had was special. A forever kind of love. One of the things that stands out in the Sassy Belles stories is the sense of community and family these caring people have. I love that everyone around Jack and Rhonda did everything possible to help them sort through the craziness of the Inn's grand opening, as well as when Jack's manipulative ex arrived in town. Marci definitely added a whole 'nother layer of crazy to the plot, which made this even more interesting.
Second chance romances don't get much sweeter than this. I hope you enjoy the beautiful happily-ever-after Rhonda and Jack finally achieved in this Holiday story.
Book Info:

Published November 25th 2014 by Beth Albright
Inheriting this old southern mansion might have been the best thing to ever happen to Hollywood chef Rhonda Cartwright. It brought her back home to Tuscaloosa, Alabama, her long lost hometown. Restoring the old place to all its former glory, she is ready for the house to make its debut as Tuscaloosa's new finest B&B. The Tuscaloosa Christmas Gala will be the stage for it all and it's only a few days away. With her new lover and old best friends surrounding her, she is poised to finally get the life she has always dreamed of: safe and secure and predictable. But just when Rhonda Cartwright thinks she has finally uncovered the last of the family secrets, a woman from the past shows up on her doorstep with secrets of her own. And just wait till Rhonda's unpredictable, unapologetic mother appears at the Christmas Gala with a surprise date. Christmas chaos ensues and Rhonda and her group of Belles will be on the case, trying to pull it all together before the big night of the Gala. Christmastime in the Deep South is almost always full of surprises. Just not this kind of surprise. Rhonda needs a miracle to pull off the Gala, or a real life Santa—well maybe she'll find both, right here in Dixie.