Christmas in Good Hope by Cindy Kirk: Ami has finally been invited to join the Cherries, a local women's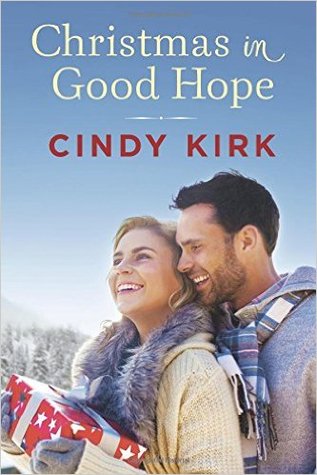 group. Her first task is to convince Beck, the newest resident in Good Hope, to open up his home for the annual tour as a part of the Twelve Nights festival. Ami and Beck have become friends as their bakery and diner, respectively, are next door to each other.
Ami grew up in Good Hope and loves the festivities around the holidays. She's well known for her generosity and willingness to help others. Beck gave up his life and relocated to Good Hope after a tragedy. He has no desire to get caught up in the Christmas festivities beyond what he has to for his diner. When he's in a bind, Ami steps in to rescue him…for a price.
"I have just one more condition before I accept."
Back frowned. "I thought you already accepted."
"Not yet." She lifted a hand, let it flutter in the air. "This is such a small thing to ask."
He inclined his head.
"I want you to agree to open your home to the tour."
Before Beck knows it, he finds himself helping Ami in any number of ways. This means that they have the chance to get to know each other even better, beyond their usual meetings over morning coffee. Both insist they are just friends, but they can't stop thinking about each other.
Beck truly appreciates Ami's willingness not to pry, as he's not used to living in a small town. Neither were looking for a relationship, but they can't ignore their connection. They are seemingly in sync in both their business and personal lives. While Ami's not entirely sure of their status, Beck is more than willing to make it clear where he stands.
"Beck, everyone thinks we're just business associates," she hissed, even as she let her body meld against his.
"I'd say it's about time they knew differently." The words had barely left his mouth when his lips covered hers.
Christmas in Good Hope is a charming and entertaining holiday read. Cindy Kirk brings the holiday spirit and joy of small town festivities to this friends to lovers romance. Ms. Kirk provides a good start to a promising new series with interesting secondary characters. Fans of Kimberly Lang and Jenna Sutton will enjoy Christmas in Good Hope.

Book Info:

Publication: Published December 1st 2015 | Montlake Romance | A Good Hope Novel #1
Ami and Beck would rather forget the past, but this Christmas of love is one to remember.
Amaryllis "Ami" Bloom's cheerful smile greets everyone in Good Hope, Wisconsin. But her merry facade hides a dark secret she won't ever forget. Still, she throws herself into celebrating Christmas—and convinces her handsome, and stubborn, new neighbor to join her.
Beckett Cross, however, is determined not to celebrate the holidays. He moved to Good Hope to leave behind reminders of how he'd had it all…and lost everything. But it's hard to resist adorable Ami, the designated keeper of the small town's holiday traditions, when she asks for help with the Twelve Nights celebrations. And Ami has a hard time resisting Beck's soft Southern drawl and gentle eyes. Will a Christmas miracle give them a second chance at love and the hope to heal both of their hearts for good?