Christmastime Cowboy by Maisey Yates: Although Sabrina has tried to avoid Liam ever since he came back in town, that's no longer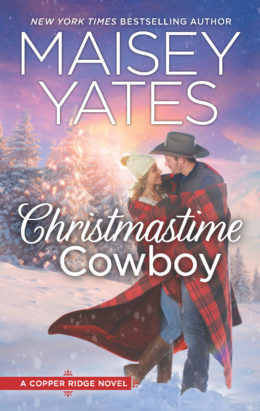 an option since they have to work together to open a tasting room owned by both their businesses. For the past thirteen years, Sabrina has hated Liam and used his abandonment as her reason to hold onto her pain and guilt for destroying her relationship with her family. But as they work together, she's forced to finally let it go and allow herself to understand why he left.
Liam has always held on to Sabrina. The summer they spent as friends stayed with him for years, and now that he's back in her company all the emotions he pushed way are coming back. From an abusive childhood, Liam doesn't know how to be enough. He won't ever get married or have kids, but if Sabrina agrees, he wants to spend as much time with her as he can.
Together, they finally let go of their pains. But who knows if Sabrina's newfound hope and desire for the future be enough for Liam to trust in.
I do always enjoy a Yates' book. She fully develops her characters, and, boy, do they talk it all out. But her romances are starting to feel a bit repetitive in style. This felt like too much repetitive angst and talking over the exact same thing again and again. I wanted to see more story and action.
However, I did like both Liam and Sabrina. I wish I could've gotten to know them a bit more beyond their romantic angst, but they fit as a couple. Both had deep grievances to get past – and they might've gotten past them a little too easily.
As always, I love the community of Copper Ridge and these four brothers in particular. I'm definitely sad to see the end of this family's romances, but am looking forward to what else Yates' has to show in Copper Ridge. For fans of the series, I definitely recommend Christmastime Cowboy. It's a good continuation of the story.
Book Info:

Publication: October 24, 2017 | Harlequin Books | Copper Ridge #10
It's Christmas in Copper Ridge, and love is waiting to be unwrapped…
Falling for a bad boy once is forgivable. Twice would just be foolish. When Sabrina Leighton first offered her teenage innocence to gorgeous, tattooed Liam Donnelly, he humiliated her, then left town. The hurt still lingers. But so does that crazy spark. And if they have to work together to set up her family winery's new tasting room by Christmas, why not work him out of her system with a sizzling affair?
Thirteen years ago, Liam's boss at the winery offered him a bribe—leave his teenage daughter alone and get a full ride at college. Convinced he wasn't good enough for Sabrina, Liam took it. Now he's back, as wealthy as sin and with a heart as cold as the Oregon snow. Or so he keeps telling himself. Because the girl he vowed to stay away from has become the only woman he needs, and this Christmas could be just the beginning of a lifetime together…