In Cipriani's Innocent Captive by Cathy Williams, being called into her boss's office is unusual for Katy Brennan. So, when he accuses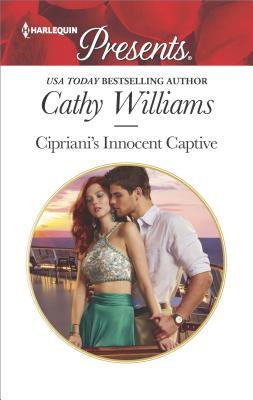 her of having information that could damage the fundamental takeover he's worked so hard for, she can't believe it, especially since he's determined to keep her interfering anymore. Determined to keep her away from any form of communication for two weeks so the deal can go through, Lucas Cipriani spirits her away on his yacht. Yet, Lucas never imagined himself falling in love with her. Will he be able to win Katy's heart, or will his fear of commitment keep them from achieving their happy ever after?
"I made a mistake," Katy said defensively.
"And mistakes happen. Even if you're not being deliberately misled by a guy, you could both go out in good faith, thinking that it will go somewhere, only to discover that you hit obstacles along the way that make it impossible for you both to consider a life together."
"And you're an expert because…?" Katy asked sarcastically.
"People are fond of self-perception," Lucas delivered with all-knowing cool.
This book was such a fascinating read and I loved how it started with Lucas acting as judge, jury and executioner when it comes to Katy's punishment. The deal he's working on is important and he can't afford to have anything get in the way of it, especially not the heroine. However, it was from the moment the hero and heroine came face-to-face for the first time that fully drew me into this story, because the heroine isn't about to yield to Lucas's penalty until she realizes she's out of options. His threats are enough to have her worried about her future.
As for the dialogue, it was intense due to the main characters back stories. The heroine has been disappointed by people in her past, and I could understand why she reacts the way she does towards the hero and his wrong assumptions. However, it seems she's fighting a losing battle when it comes to defending herself, because Lucas holds all the cards. Furthermore, I loved how much of a challenge the heroine is for the hero. She isn't about to cower because she hasn't done anything wrong. I also liked how strong and brave Katy was and the way she's managed to come out on top after being misled by a man she thought she could trust. Yet, what I liked most of all about the heroine is her feistiness and that she isn't afraid to stand up to Lucas. Certainly, she's unlike anyone else in the way she treats him.
"You're so cynical…about everything." She harked back to the lack of trust that had made him think that the only solution to saving his deal was to isolate her just in case.
"There's no such thing as the perfect man, Katy. With Powell, you got someone who deliberately set out to deceive you." He shrugged. "You might think I'm cynical but I'm also honest. I have never in my life set out to deceive anyone. I've never promised a bed of roses or a walk up the aisle."
While the hero, he may be cynical when it comes to relationships, but I liked how frank he was with the heroine. She's been duped by a man before, yet I liked how Lucas makes her feel for the first time that she can trust a man again, even though they got off to a rocky start with his accusations. I also liked how hard he's worked to get to where he is in his life, and I enjoyed how determined he was to do whatever it takes to make sure his business continues to run smoothly. Will the heroine understand that whisking her away is the right thing to do?
"I should have bought you the sports car," Lucas murmured and Katy glared at him. "That wouldn't have fitted into an umbrella stand."
"You wouldn't have dared."
"When it comes to getting what I want, there's nothing I won't do."
Overall, Ms. Williams has penned a wonderful read in this book where the chemistry was strong; the romance delightful; the animosity between this couple made me want to keep reading to discover how Lucas would win Katy over; and the ending had me loving the hero, because he doesn't give up on getting what he wants and what he wants is forever after with the heroine. The way this story ended was heartwarming, especially because of Lucas's words to Katy about how she's changed his life. I would recommend Cipriani's Innocent Captive by Cathy Williams, if you enjoy the enemy to lovers trope, the blackmail trope or books by authors Carole Mortimer, Michelle Conder, Dani Collins and Lynne Graham.

Book Info:

Publication: August 22nd, 2017 | Harlequin Presents |
In paradise–as his prisoner!
One of Lucas Cipriani's employees has information which could ruin a vital takeover–and he's furious! The only way to handle temptress Katy Brennan is to hold her captive on his yacht for a fortnight, cut off from the world until the deal is complete…
Katy is infuriated by her billionaire boss's high-handed behavior–but also unwillingly intrigued by the gorgeous CEO. Once she's alone and at his mercy, Lucas begins to let Katy see past his steely exterior. Soon she's shockingly tempted to indulge in a forbidden fling…and relinquish her innocence!