In Claimed by her Billionaire Protector by Robyn Donald, Elana Grange tends to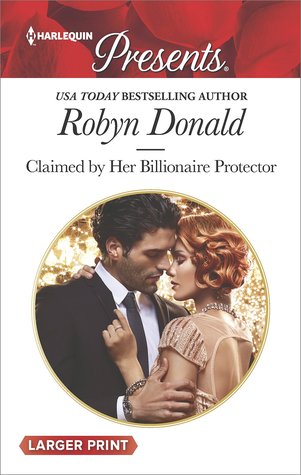 keep herself from getting too close to people, particularly men. However, there's something about Niko Radcliffe that tempts her to take a chance, especially after being forced to accept his help. Will Niko be able to win Elana's heart and prove she can trust him, or is getting close to someone just asking for trouble?
"So if you decide you don't like me, you'll call me Mr Radcliffe?"
Elana allowed herself a careful smile. "I'd probably avoid you. That way I wouldn't have to address you at all."
"So if I notice you fleeing from me, I'll have to accept that I've done something that displeased you."
This was a story I liked, of which I loved the connection between these two from the moment they met, as Elana was all set to dislike Nico, and yet, he's tempting in a way she's never been tempted before. Will she give Nico a chance? Will she see that he's different from the men she's known in her life? However, it was hard to handle the heroine and her distrust of men at times. Will the heroine realize that Niko is nothing like her father before it's too late, especially when something makes her question whether the hero would hurt her?
As for the dialogue, it was riveting and emotional due to the main characters back stories, especially that of the heroine, as she's lost so much and when things happen that force her to face the past I liked that she was willing to lean on the hero for support, even though that is hard for her to do. Really, she's so independent and determined to go at things alone, but I liked that she was willing to listen to advice of those that want her to be happy. Will she take notice of the advice and give the hero a chance? While the hero, he's determined to do good for the local community, which is proven by what he's doing with his property. I also liked how determined the hero was to win the heroine over, even though he has quite the challenge on his hands because Elana doesn't trust easily.
"Ok, so physical attraction is an important part of falling in love, but it's not the most important thing. I'm not over the hill yet – I'm twenty-four, the same age as you! And it's not as though I'm a blushing virgin."
"I agree with you, marriage is a serious business." Fran leaned forward, and touched Elana's arm. "I know you can have a good life without marrying or falling in love, but it's – well, it's cowardly to let your mother's experience darken your own life."
Overall, Ms. Donald has delivered a read that I enjoyed where the chemistry between this couple was strong; and the heroine left me shaking my head because she doesn't give the hero the benefit of the doubt when it comes to something she learns, even though he's never given her any reason to believe he'd do such a thing as to what she learns. However, in saying that, I liked how this story ended because the heroine takes the biggest chance of her life in putting her trust in the hero. I would recommend Claimed by her Billionaire Protector by Robyn Donald, if you enjoy the mysterious strangers trope or books by authors Sharon Kendrick, Cathy Williams, Annie West and Carole Mortimer.
Book Info: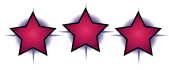 Publication: February 20th, 2018 | Harlequin Presents |
"You shouldn't be alone tonight."
But accepting his offer leads to sinful temptation…
Elana Grange is primed to dislike Niko Radcliffe—the tycoon's arrogant reputation precedes him!—so she's not prepared for the heart-stopping, charismatic reality. Their intense chemistry sends shock waves through her, especially when she's forced to accept his help. Elana knows she'll find only ecstasy in Niko's arms, but letting him close feels so very dangerous…