In Claimed for the Leonelli Legacy by Lynne Graham, Tia Grayson has spent her life living in a convent, but now the grandfather she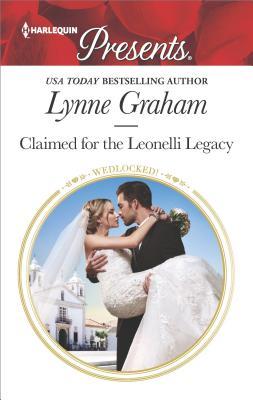 never knew wants to bring her home in hopes of her spending the little time he has left with him. However, that isn't her grandfather's only plan and once she discovers the truth of his plan for her to marry his protegee Max Leonelli, will Tia be able to hold true to her vows or will she run scared that Max doesn't feel the same way for her that she does for him?
"Maybe you thought you'd find me on a hill somewhere singing among the wild flowers? Yes, I am acquainted with sarcasm, Max!"
Max was taken aback by the display: she had gone from zero to ninety in seconds and lost her temper. "Does that also mean you need to start shouting at me?" he shot back at her.
Recalled to her wits but still trembling with annoyance, Tia stilled and sucked in a steadying breath, appalled at the rude way she had attacked him. "I'm sorry. You didn't deserve that rant. I suppose I'm worried about how I will appear to you and to my grandfather and that I won't suit."
"You needn't worry about that. If you had horns and a tail, Andrew would welcome you. You're his only relative," he responded wryly.
Ms. Graham pens some really fascinating stories, and this book thoroughly entertained me from start to finish with its feisty heroine that is finally experiencing life outside of the convent she's lived in most of her life; a hero that will do anything for his mentor, even if it means marrying Tia; and riveting dialogue that had me hooked due to the main characters back stories and everything they go through on their way to happy ever after. The way this story started had me enjoying the relationship between Tia's grandfather Andrew and the hero Max, as the older man has done so much for the hero and Max would do anything for Tia's grandfather, because if it wasn't for the man who knows where Max would have ended up in life otherwise? However, what I liked most about the beginning of this story is the moment the hero and heroine met, as Max isn't the sort of man to go for a woman who is so innocent like Tia, and yet, she captures his attention like no woman has before. Will Max get the girl?
As for the dialogue, it was riveting due to the main characters back stories, as neither have had it easy in life. The heroine has serious abandonment issues, which makes it understandable why she fears leaving the place she's lived for years. Will she be able to settle into her new life? Moreover, the heroine is strong, brave and I liked how determined she was to prove she can start over and settle into life getting to know her grandfather. I also liked how kind and caring Tia was when it came to her grandfather and his illness. Will Tia be able to handle the fact that she might lose her grandfather after only just meeting him? Yet, what I liked most of all about the heroine is how she handled the obstacles she faced on her journey to happy ever after, even though I couldn't help but feel sorry for her when it came to the critical point of the story; the moment where everything fell apart when it came to her relationship with Max. While Max, he was just as good as the heroine. He's confident, hard-working and I liked how determined he was to win the heroine over, even though he never imagined falling in love would be something he did in his life. I also liked his relationship with Tia's grandfather, as they had a bond as close as father and son, which is proven by Andrew's willingness to do anything for the man that helped him be the man he is.
"You should make me wait for this," Max growled soft and low, conflict in his hungry eyes as he perused her.
Already flushed, Tia's face burned at that unsought advice. "I can't believe you're saying that to me. I thought you wanted me."
"Doubt there's a man in Rio who wouldn't want you, bella mia," Max assured her helplessly. "But I also don't want you to have any regrets."
"Why on earth would I regret this?"
Overall, Ms. Graham has penned a really good read in this book where the chemistry between this couple is intense and keeps growing until Max and Tia give into their chemistry, which spilled over onto the pages in nicely-detailed sex scenes that showed how much Max cherished Tia. The way this story ended had me concerned that Tia and Max wouldn't find their happy ever after. However, in saying that, I liked that they proved me wrong and that Max didn't give up on winning the heart of the woman he loves. I would recommend Claimed for the Leonelli Legacy by Lynne Graham, if you enjoy the surprise pregnancy trope or books by authors Heidi Rice, Annie West, Melanie Milburne and Michelle Smart.

Book Info:

Publication: September 19th, 2017 | Harlequin Presents |
An innocent…
Tia Grayson has never known life outside the Brazilian convent she calls home. Until Max Leonelli arrives with the shocking news that she is heiress to an English fortune–and ignites a burning need for his touch…
A billionaire…
Tia's grandfather expects a match between his protegee and his heir–but Max is not a marrying man. Until the sight of Tia's ravishing beauty has him reconsidering…
A baby?
Max must escort Tia home, but desire soon overtakes them. After one incendiary night, the potential for consequences gives Max the perfect opportunity to claim Tia as his bride!