Claiming Alexis by Susan Stoker is the second book in the Ace Security series. Blake Anderson is attracted to intern Alexis Grant, but he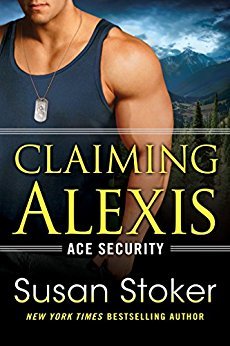 questions her ability to stick around, as she bounces from job to job. Alexis has wanted Blake since the moment she met him. Determined to prove she wants to stick around, she volunteers to go undercover with a local gang to try to bring them down. But when things go wrong, will Blake get there in time to save her?
This is the second book in the series, and I wished I had read the previous book first. Granted, this works as a standalone, but Alexis was first introduced there. There was an incident that happened between the gang, her brother, and Logan's wife, Grace, that had brought them all together. What happened wasn't really covered in this book, but the incident was referenced several times, so I felt like I was missing something there.
I felt the romance moved a bit quickly, as it seemed they went right from just being co-workers to telling each other they loved one another. I enjoyed the story overall, but I felt like something was lacking between the pair. Perhaps it was because their romance moved so fast.
This book sets up the story for the final Anderson brother, Nathan, and Bailey, the ex-girlfriend of the gang leader, well. I'm looking forward to reading about how that turns out.
If you enjoy romantic suspense, you should consider adding this one to your reading list.

Book Info:

Publication: July 4, 2017 | Montlake Romance | Ace Security #2
Nothing is more important to Blake Anderson than the work he does with his brothers at Ace Security. At least that's what he thinks until he meets the fiercely independent Alexis Grant. The security firm's new intern pushes all his buttons—and makes his temperature rise. But giving in to temptation might be risky business.
Alexis can tell that Blake has his doubts about her ability to commit. But while most people look at her and see only a flighty rich girl, she knows he sees much more. Determined to prove herself to Blake, Alexis jumps at the chance to work undercover. And when her case takes a dangerous turn, she puts her trust—and her heart—in his hands.
Now, as Alexis digs into the deadly secrets of a local gang, Blake will lay everything on the line to protect the woman he's come to love.