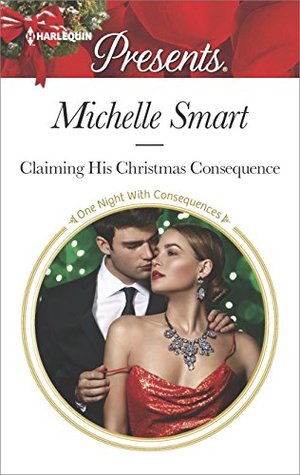 Claiming His Christmas Consequence by Michelle Smart: Princess Catalina of the House of Fernandez, the ruling royal family of Monte Cleure knows her duty – to remain pure, and acquiesce to a marriage of her father The King and her brother Prince Dominic's choosing. Her one night of passion with wealthy businessman Nathaniel Giroud was meant to remain a secret forever. But when she becomes pregnant, the secret is out. Now Nathaniel has agreed to a one year marriage, to legitimize the birth of their child, but only because he's being blackmailed into it. The lovemaking they shared seems far away in the cold light of their arranged marriage. Can a marriage of convenience become a partnership of love?
Catalina's life living at the palace is definitely no picnic. She has an abusive older brother, sly servants and a father who doesn't listen to her. It's no wonder that she would want to spend a few hours with Nathaniel forgetting about her circumstances! But because of how their marriage comes about, it takes time for this couple to become comfortable with the situation they find themselves in. Nathaniel has always been known as a commitment free playboy, and his feelings about the marriage are unclear at first, other than that he will not shirk his duty towards their child. The positive part of their predicament is that Catalina will finally be able to live somewhere else, and with a man who will at least treat her better than what she's used to. I felt sorry for her, and the difficulty in general of being brought up in a cold royal household. But nothing is as she expects it to be, even in her new marriage, and she finds instead the backbone she needs to take charge of her own future. I really liked seeing her gain strength and assurance in herself. The story takes some unexpected twists and turns that quite delighted me and though it took a little while, Nathaniel eventually comes to his senses and realizes what a treasure he could lose if he doesn't own up to his real feelings for Catalina. They share some sensual love scenes and in the end, get the happy ending they deserve though not without a little drama! It's an enjoyable and entertaining royal romance.

Book Info:

 Nov 1, 2016 | Harlequin | One Night With Consequences #24
"You have one new message…"
"Know this, Catalina. You might be a princess, you might be wearing my ring, you might have taken 200,000 euros of my money…but you are carrying my child, and I will find you."
Catalina had never stepped out of line, until one stolen Christmas night of irresistible passion with French billionaire Nathanial Giroud changed her life forever.
Now, hidden in the Pyrenees, Catalina is determined to protect the small life growing within her from the anguish of her own royal upbringing. Even if she has to defy the husband she so desperately craves!
When one night…leads to pregnancy!