Claiming His Convenient Fiancée by Natalie Anderson Catriona (Kitty) Parkes-Wilson's father unexpectedly sold her childhood home—a home that has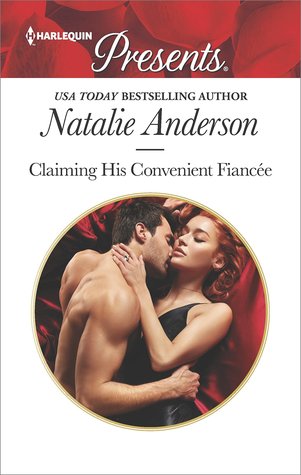 been in her family for generations—and all of its contents, including a necklace that once belonged to her great-aunt and has great sentimental value. Kitty is determined to get it back and breaks into her old home to steal it back, but she's caught by the house's new owner, Alejandro Martinez.
Alejandro is having a party when he discovers Kitty, and he demands she stay by his side until the party is over, and he can get to the bottom of her break in. He's angry, but he's also very attracted to her. He holds onto Kitty as he circulates with guests, and she ends up blurting out that they are engaged when an old acquaintance of her asks her why she is there. Alejandro, surprisingly, doesn't dispute her claim.
Alejandro doesn't want his reputation harmed by publically ending an engagement, because he's opening a London office of his company and doesn't want any gossip or negative stories in the press. He strong arms Kitty into playing his fiancée for a month promising that the necklace will be hers afterwards. She agrees to live with him and be seen out together.
These two have chemistry that pops, and the sexual tension is evident from the moment they meet and grows as they spend time together. Alejandro has no doubt they will indulge in their attraction, but Kitty is resistant to getting involved with a man who is known to be a playboy. He doesn't pressure her or pretend to be anything he's not, but he does slowly seduce her into having an affair. Neither expect their fake relationship to evolve into anything more, but the heart is always unpredictable.
Claiming His Convenient Fiancée is thoroughly entertaining, and Kitty and Alejandro are charismatic and endearing. Their relationship is fun and sexy as they exchange banter and go-toe to-toe. They have chemistry that is tangible, and there's plenty of steam to make this romance sizzle.

Book Info:

Publication: 6/20/17 | Harlequin Presents |
The millionaire's temporary engagement!
Impulsive Catriona Parkes-Wilson must retrieve a forgotten family heirloom, and if that means breaking into the mansion she grew up in, so be it! But she never expected to get caught by the house's hot-tempered new owner, Alejandro Martinez, nor be forced into posing as his date for one night!
Desire rips through Alejandro the minute he sees Kitty, her reckless abandon igniting an animal urge to take her as his own. So when Kitty is mistaken as his fiancee, Alejandro is determined to take full advantage–and unleash the powerful hunger that rages between them!