Classified Christmas Mission by Lynette Eason lives up to its' genre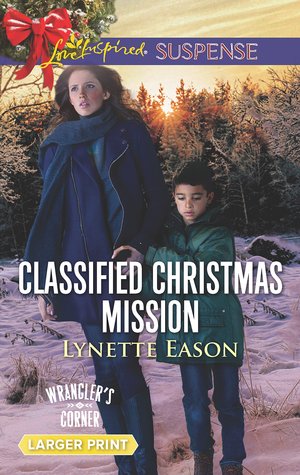 as a romantic suspense, strong on the suspense. The heroine, Amber, is an independent, strong undercover intelligence agent trying to protect the young son of her closest friend, who was just killed.
Amber and the little boy, of whom she is now the guardian, are on a desperate quest to disappear, perhaps permanently, so he will not be killed by his own father- who is an evil criminal that is ashamed of having a special needs son.
The little boy also has valuable information stored in his mind, which Amber, and eventually Lance and others in the Wrangler's Corner police department must coax him to share. And they are forced to be patient and let him share it in his own way, as he is autistic. They are constantly racing from one hiding place to another to escape her friends' husband. Meanwhile, Amber wrestles with whether she should stay in the CIA, once they bring Pirhadi to justice.
Amber and Lance walk a fine line in trying to hide their growing feelings for each other, while trying to stay alive and one step ahead of Pirhadi. I definitely recommend this for fans of romantic suspense.

Book Info:

Publication: November 6, 2016 | Love Inspired | Wrangler's Corner #4
Days before Christmas, CIA agent Amber Starke is on the run with her murdered best friend's special-needs son. And they're next on his criminal father's hit list. Amber failed her undercover mission to bring down her friend's husband for his crimes, but she won't fail to protect her friend's son. Now that the killer knows she's not just a nanny but an agent, she must rely on her childhood crush, Deputy Lance Goode. The handsome lawman was burned in love by his first wife, who was killed while evading the law. But he'll do everything he can to help Amber, except offer his heart. Unlocking the secrets in Amber's autistic charge is the key to their survival, but with the killer on their trail, one mistake could cost them their lives.