Cocktails at Le Carmen by Isabeel Andover was a cute story. The characters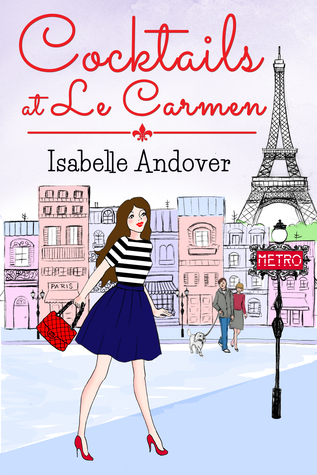 were well written, and it's infused with a bit of humor and drama.
I liked Chloe. She's brave enough to leave everything she knows to move to Paris for a job transfer. She jumped into the unknown with both feet, excited for a new adventure. I did feel she was a little naïve when it came to her boyfriend Scott and all the signs that pointed to the fact he was not the man she believed him to be.
Jean-Luc is in a relationship in which he and his girlfriend don't believe in marriage. It seemed odd at first, but as the book progressed I understood why he didn't want to marry Isabelle.
Was there instant love between Jean-Luc and Chloe? No, and it was refreshing change. Throughout the book they took the time to really get to know each other and develop their relationship as boss/employee, and then as friends.
They both have to deal with Jean-Luc's stalker, and Chloe has to deal with an overdramatic sister. Chloe handles each situation beautifully (the final run-in with Jean-Luc's stalker had me laughing, and what she did with a SD card showed her ingenuity).
If you're looking for a light, entertaining read, I would recommend giving this one a chance.
Book Info:

Published: June 19, 2015 | Simon & Fig |
When job cuts at Chloe Saddler's London communications firm result in an unexpected transfer to Paris, she finds herself leaving behind her friends, family, and boyfriend Scott to start a new life in the City of Light. Getting to grips with La Vie Parisienne and keeping a long-distance relationship afloat is not made any easier by the culture shock. Committing the odd French faux pas and inadvertently indulging in a few too many flirtations with her very sexy (and very taken) boss, Jean-Luc, is just the start of it. Factor in her bridezilla of a sister's wedding (the hottest event of the year in the Saddler family's social calendar), an unexpected session of hot, naked yoga, a slightly psychotic stalker, and one incredible kiss at an infamous Montmartre nightspot, and Chloe can say au revoir to her old, safe London life and bonjour to the romance, splendour, and glamour of Paris.