Confessions of a Secret Admirer: A Valentine's Day Anthology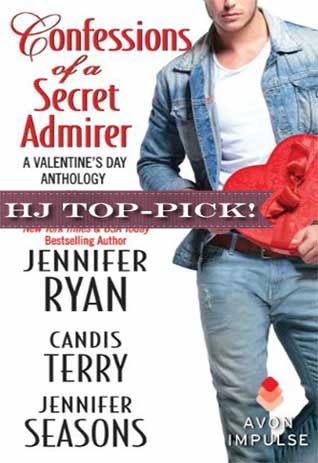 In Confessions of a Secret Admirer: A Valentine's Day Anthology, we get three incredibly sexy and sweet love stories that are bound to get your heart fluttering.
Each author is equally talented in her own right, but when a collection like this is put together…whew…I guarantee this will be on your keeper shelf!
Here's a look at each romance:
Waiting For You by Jennifer Ryan
Waiting For you by Jennifer Ryan ~ Who doesn't like a reunion story? Especially with a hunky rancher who, after a decade, finally confesses his love for the girl next door. Taylor actually really did grow up next door to Grant, and even though she spent more time with his younger brother, Seth, she always pined for him instead. After leaving under complicated terms, Taylor is back home and this time Grant is determined to ensure she knows how he really feels. And he's not taking no for an answer. This story made me swoon with how loving and thoughtful Grant was with Taylor. What made it better was that she was so deserving of a good, solid man in her life to watch out for her. She had a giving personality and worked incredibly hard. Grant was just the guy to give her some TLC. *happy sigh*
Sweet Fortune by Candis Terry
Sweet Fortune by Candis Terry ~ Get ready for a fun, flirty opposites attract story with a nice mix of comical moments and some extremely tender and intimate ones as well. Shy Sarah Randall wants to be noticed by sexy Deputy Brady Bennett so she gets some advice from her friends on how to flirt and dress to impress. But Brady is already intrigued with her girl-next-door persona. When she bumps up the smolder-factor, he is simply knocked out. But will his trust issues stand in the way of reciprocating Sarah's feelings as they start to fall for each other? I was so happy to be back in Sweet, Texas, for this one. There's just something about those Texas guys and the women who love them but aren't afraid to hold them accountable. 😉
Major League Crush by Jennifer Seasons
Major League Crush by Jennifer Seasons ~ Quirky, passionate romance at its best. Bertie has lived across the hall from professional baseball player Drake for about two years. She has a crush of epic proportions on him but has yet to actually meet him. I mean, what would a gorgeous guy like Drake want with tiny little nerdy her, right? It just so happens that Drake is ready to leave behind all the superficial hook ups and look for something real. One conversation with Bertie and he's convinced she's the one he needs in his life. This was such a hilarious but yet sweet story. Bumbling and awkward, Bertie stole the show. That is, until Drake bestowed upon her one of the most romantic gestures ever. Loved. Them. Together.
Overall Impression: If you love Holiday themed romance stories, this anthology is for you. All three authors did a fabulous job of grabbing my attention and not letting go until I read every single page. Highly recommended.
Book Info

Published February 4th 2014 by Avon Impulse
Some secrets are meant to be revealed …
Or so you'll discover, in three sexy, unforgettable Valentine's Day stories from New York Times & USA Today bestselling author Jennifer Ryan and contemporary romance stars Candis Terry and Jennifer Seasons.
Waiting for You by Jennifer Ryan
Rancher Grant Devane has waited for Taylor Larson's return to Fallbrook for more than ten years. Now that the fearless beauty has come home on her terms, he'll do anything and everything necessary to win back her heart.
Sweet Fortune by Candis Terry
Sarah Randall is tired of being invisible to the opposite sex. So when a leap of faith sends her to Sweet, Texas, and into the path of ridiculously hot Deputy Brady Bennett, she's determined to catch his eye … even if it means staying hidden just a little bit longer.
Major League Crush by Jennifer Seasons
Professional baseball player Drake Paulson can't help wanting to know more about his cute, shy neighbor. But when he discovers her deepest secret and she flees, it'll be up to him to win her trust—and her love—one gift at a time.