In Convenient Marriage, Surprise Twins by Amy Ruttan, Dr. Lana Haole promised herself that she would never again fall for a man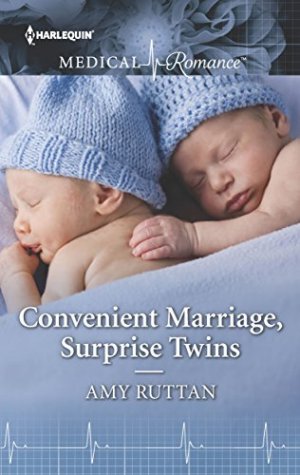 after her last relationship went down in flames in spectacular fashion. She's busy with her career in orthopedic surgery and keeping her brother Jack, who is hoping to become a pro surfer, in line. So when she noticed sparks between her and Jack's coach, Dr. Andrew Tremblay, she just waved it off. But when Andrew is in jeopardy of getting sent back to his native Canada if he doesn't get a green card, Lana somehow gets suckered into marrying him. She knows it's not a real marriage but their wedding night proves just how strong the attraction is between them. And when she learns she's pregnant? Well, that gives her a new purpose in life. One that will happen with or without Andrew's help–although she'd much rather have a life with him in it.
'This marriage was just one of convenience. There was an expiration date. She'd spent her whole life alone and nothing was going to change now.'
Hawaii seemed like the perfect place for former pro surfer Andrew to settle for a bit. He loves coaching Jack and working at the local hospital as well. Besides, all that's left for him in Canada is bad memories. He should have known that asking Lana to agree to a marriage of convenience would be a bad idea, though, given his intense draw to her. Others might call her an Ice Queen but Andrew sees the fire and sense of humor she hides to protect herself. After their one night of passion, a night he will never forget, their lives are suddenly altered when he finds out he's to become a father. Something he never wanted in his life. But then again, he never thought he'd get married. Maybe Andrew might finally get the chance to truly connect with Lana and feel worthy of her love after all.
"I saw you staring at the ring… Pin it to your scrubs; that's what I see the nurses do all the time. They pin it over their heart."
She tried not to roll her eyes. "I'll do just that."
He grinned. "That's my girl."
"Don't call me that!"
"Snookums?"
"Didn't we already have this conversation, Tremblay?"
Convenient Marriage, Surprise Twins is exactly as the name suggests: a medical romance with a modern day marriage of convenience and the super happy bonus of not one, but two surprise babies on the way.
I had a really great time meeting this cast of characters and just breezed right through this story. Amy Ruttan had a nice flow to her writing, where the emotions came across loud and clear and even the drama felt real–not melodramatic. I'm usually more of a fan of marriage of conveniences in historical romances as they seem more plausible, but this was a rather convincing situation. I'm sure this type of marriage takes place more than we realize, for someone to stay in the country and get their green card. And even though it seemed like a tricky idea, there were definitely feelings already between Andrew and Lana, although they tried to play it off as disliking one another. There was a lack of communication and honesty between them that one would expect in their predicament but I loved how everything fell into place at the end and their true connection came shining through.
Both Lana and Andrew had dark pasts in terms of their families and I think it was something they bonded over. It also caused some tension when Lana overstepped at one point, but with both of them feeling rather broken emotionally, they understood the need to back off at times. I liked both characters, as well as Lana's brother Jack, very much. Andrew was carrying a lot of guilt but he was such a good guy. I loved his ability to tease Lana and bring her out of her "Ice Queen" mode, which was her go-to when she was feeling uncomfortable or lacking control of a situation. They had some sweet and funny moments together that made me smile. But I liked that Ruttan wasn't afraid to also include some serious, tragic and nearly tragic, heartbreaking moments that made this all the more like a real life story.
Set in gorgeous Hawaii, this book is certainly perfect for summertime reading. Filled with genuine emotions and struggles, and a bunch of characters you can't help but like, I think readers will enjoy this book immensely.

Book Info:

Publication: Published June 20th, 2017 | by Harlequin Medical Romance |
One wedding night…
When Lana Haole reluctantly agrees to a marriage of convenience to help persuasive and all-too-tempting Dr. Andrew Tremblay stay in the country, the last thing she expects is to fall for the arrogant playboy's charms–on their wedding night…
Twin consequences!
Lana and Andrew agree it was a one-time-only deal…until they discover that Lana is pregnant with twins. Andrew won't walk away from his babies, or his beautiful bride, so he has eight months to convince Lana to stay his wife forever!