Cowboy to Command by Sabrina York sheds a little light into one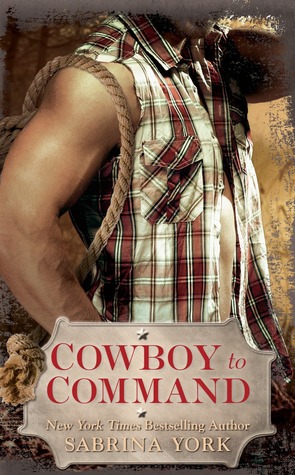 woman's affirmation of who her true love actually is.
It doesn't take long for former Navy SEAL, Brandon Stewart, to get bitten by the love bug. The only problem…the woman he wants has her heart set on someone else. Someone she swears she's in love with, but who doesn't give her the time of day. But Brandon has no problem offering up his time and kisses to her, in anyway she wants it.
Porsche McCoy gets this wild idea in her head that in order for the man she's been crushing on to notice on her, in a romantic way, she has to become unavailable. The easiest way to do that is with a boyfriend.
If pretending to be Porsche's boyfriend is the only way to get close to her, Brandon's in! In fact, pretending to be someone's boyfriend includes many benefits.
"We should practice. Diligently. Every chance we get."
But when feelings take hold and pretending isn't enough anymore, will Porsche open her eyes and see that her true love is right in front of her?
I loved the idea of Porsche and Brandon from the get go. I loved their witty banter and the quick connection they formed together. Brandon is an awesome hero. A former SEAL, turned cowboy, who dances like sin…Lord have mercy. There's also the fact that he's rocking a prosthetic leg and not letting it slow him down. He goes after Porsche with a fierce passion that would have any woman jealous. Porsche is a great character, too. She's held on to this belief that she's been in "love" with Cody forever, without truly knowing what it meant. With Brandon her eyes and her heart is open.
For those romance lovers who need their cowboy fix, grab Cowboy to Command as soon as you can! This is book two in the Stripped Down Series, but if you haven't read the first book, don't panic, go ahead a dive into this one without worries!

Book Info:

Publication: October 18th 2016 | InterMix | Stripped Down #2
The second sexy, Stripped Down novel from the author of Stud for Hire.
Just south of Fort Worth, Texas, you'll find a little ranch where the hot, toned cowboys are ready and eager to take it all off and make your naughtiest fantasies come true…
Satisfaction is the name of the game at the Double S Ranch, where the men are more than willing to play. They come from all walks of life, and each has their own reason for dancing for a lady's pleasure.
A former Navy SEAL, Brandon Stewart started dancing after an injury in the field put him out of commission. The power he commands when a woman's eyes are locked on him makes Brandon feel like the man he used to be. But when he meets Porsche, Brandon has never felt more stripped bare.
The spirited beauty needs a handsome fake boyfriend to make another man jealous. But Brandon is determined to prove to Porsche that pretending with him is nothing compared to the real thing…