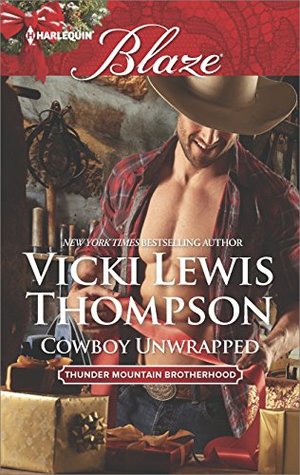 Cowboy Unwrapped by Vicki Lewis Thompson is the latest Thunder Mountain Brotherhood romance from Vicki Lewis Thompson. They center around men who as children or young teenagers were taken in as foster children at Thunder Mountain Ranch by Herb and Rosie, experiencing finally the love and togetherness and friendship they never got from their own families. Each of the young men has grown up to be an upright, honest gentleman following different career paths but never losing sight of the gift they were given in the years they spent at the ranch. This story is about Jake, who went on to become a firefighter in Jackson Hole. Though he'd moved away and has been enjoying a successful career, he is happy to be coming home to the ranch for Christmas, with a chance to see some of his other foster brothers. Even better, it's going to give him (hopefully) the opportunity to see his old high school sweetheart Amethyst. Though they'd broken up in high school, a foolish decision he'd made that he'd since regretted, earlier in the summer they had reconnected for a passionate night together when Amethyst, a budding singer, had performed in Jackson Hole. She still lives in Sheridan and though they'll both be busy with their families they might get a chance to spend some time together. As luck would have it, the first person he meets on a trip into town to pick up some last minute Christmas gifts is Amethyst. She's just as happy to see him as he is to see her. It's easy to pick up their sexy affair where they left off, as neither had gotten involved with someone else since they'd last seen each other. But Amethyst is making plans to further her career, and could be moving away very soon. A no strings attached holiday fling might sound good, but will they end up with broken hearts again?
How do you measure success? That's the theme running through this story as Jackson and Amethyst reconnect. Amethyst is happy with her life, but has the nagging feeling (brought on by other's comments) that she should be doing something more with her singing career. She's set up a soundproof recording studio in a spare bedroom of her apartment where she gives music lessons to children in between recording her music. She travels around locally giving concerts and making enough money to live on. Her friends and family all live close by and she's content with her small town life. But if she really wants to make it big, she should be going to New York or L.A. or somewhere where her music can really take off. But will moving away from the life she's known make her any happier?
Jake is very happy to be home for Christmas, to see his foster family, and relive some of his better childhood memories of Christmas past. Seeing Amethyst again is an extra present. He sets up a fun sleigh ride date for them (and I believe it's the first time I've read about sleigh ride sex!) and they go on to find moments where they can be together. They share some steamy love scenes that are clearly more than just sex for both of them. Jake comes across as a protective and confident man, clearly fitting his firefighter career well. Being back at the ranch makes him a little homesick, and he decides that he's going to see about getting a job with the Sheridan fire department so that he can stay home permanently. It's a decision he makes regardless of what Amethyst plans to do in the New Year, though some part of him hopes it might persuade her to change her mind about moving away. I liked that even though he didn't think Amethyst was necessarily making the right move to pursue her career elsewhere, he was trying to be supportive of her choice.
The story, taking place over the Christmas holidays gets an extra sparkle from the family gatherings of both Jake and Amethyst. There are several lovely scenes showcasing the closeness and love they experience with their families, and some lighthearted humorous moments as well. In the end Jake and Amethyst both make decisions that lead to their happy ending and it all wraps together nicely. I look forward to reading the next story in the series, which will be switching over to the Harlequin Special Edition line. If you are looking for a sweet and sexy Christmas themed story with a second chance romance, I highly recommend this one.

Book Info:

 Nov 22, 2016 | Harlequin | Thunder Mountain Brotherhood #8
This cowboy can handle the heat…
For cowboy and firefighter Jake Ramsay, Christmas at Thunder Mountain Ranch is all about family, food and celebration. Okay, and maybe a chance to run into his high school sweetheart, singer Amethyst Ferguson. Six months ago, they had a scorching-hot, wild reunion…and this cowboy can't wait for another chance to play with fire.
Now their sexual attraction is an insatiable, five-alarm blaze that's only grown more addictive. But Amethyst has career dreams that don't include Jackson Hole, Wyoming, or a "relationship." Whatever this is between them, however real it feels, it can never become anything more. Once Christmas is over, Amethyst must walk away…even if they both get burned.